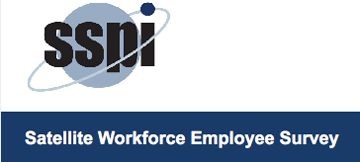 [Satnews] Join 700 colleagues helping to make our industry better—what are your top priorities? One of them certainly has to be your career and the long-term health of the industry you work in.

That's why the Society of Satellite Professionals International (SSPI) recently invited you spend a few minutes completing a survey on exactly that topic. We are back with a reminder about how important it is.

The Satellite Industry Workforce Study provides a multi-company, multinational view of the people who work in this industry. It creates a shared understanding of the challenges we face in recruiting and managing talent, at a time when our industry competes with the best-known technology companies in the world. From that shared understanding can come joint action to make our industry more competitive. The study also provides statistics that let us measure our progress – and that let you compare your qualifications, career path and compensation with others in the business.

More than 700 of your colleagues from 21 nations responded to last year's survey and hundreds have already responded this year. But we need your help to make the report the most beneficial it can be for the industry. Even if you have answered the survey last year, we ask you to fill out the new one to provide updated information. You have until December 31 to add your unique experience to this emerging portrait of our shared business.

The study is conducted by the Society of Satellite Professionals International in partnership with Korn Ferry, the global human resources firm. The survey takes just minutes to complete, and will contribute to a better career and a better industry in the future. The results will be published in February 2016.