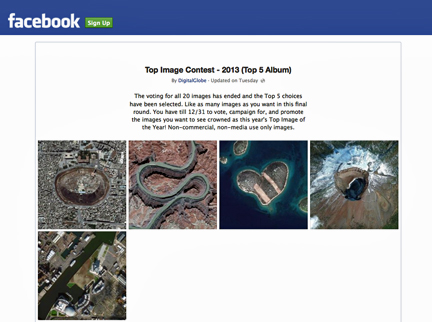 [SatNews] DigitalGlobe has announced the five finalist images in their annual Top Image of the Year contest, which showcases satellite images of natural disasters, political issues, natural wonders and current events from 2013.
DigitalGlobe compiled the 20 most noteworthy images into a Facebook album on December 3rd and enlisted fans to vote for their favorites by "liking" as many images as they want. After two weeks, and more than 26,000 votes cast, we've narrowed it down to the top five images. DigitalGlobe is again enlisting its fans and followers to crown the winning image, which will be announced in early January. In addition to "liking" the image in the new Facebook album, Top Image Contest – 2013 (Top 5 Album), you can vote on our other social channels. Retweet your favorite image on Twitter, +1 your favorite on Google+ or repin from our Pinterest board.

You can view DigitalGlobe's blog post for more information about the contest. Here are the links to the high-res finalist images, which are available on DigitalGlobe's Getty site. The Top 5 Finalist Images are...