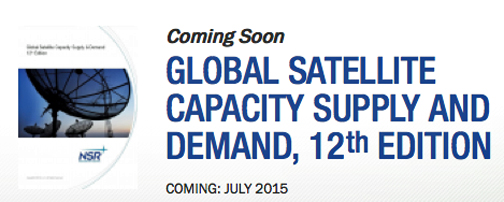 [SatNews] NSR's Global Satellite Capacity Supply & Demand, 12th Edition (GSCSD12) is the latest installment of NSR's comprehensive satellite capacity analysis.
To reflect the major announcements over the previous 12 months, this study sees a significant expansion of report scope, with the addition of LEO-HTS business models, supply, and demand, as well as the addition of HTS segmentation by frequency band. This all new assessment complements NSR's databases from 11 previous editions of this study, providing insights on crucial strategic questions including:
Where does the market stand today, and how will it evolve tomorrow, with regional and application insights meshed with all frequency bands and FSS/HTS categories?
What will be the technological and commercial possibilities and limitations encountered by new GEO, MEO and LEO-HTS systems?
How will LEO-HTS business models evolve, and to what degree will these projects expand the total addressable market for satellite services?
Drawing from NSR's extensive databases and more than 15 years of satellite industry data, GSCSD12 assesses the trends that have impacted the industry over the previous year and beyond, and using NSR's holistic approach to analysis, provides guidance for the evolution of these trends moving forward. With 13 regions, 8 applications, and 8 different types of capacity covered in-depth GSCSD12 offers the most comprehensive satellite capacity analysis available.
Containing more than 1,000 supply, demand, and revenue forecasts and regional market share estimates complemented by NSR's in-depth qualitative analysis, GSCSD12 leaves no stone unturned, and provides coverage of all major trends impacting the industry today.

NEW in this Edition!
Since the report's inception, NSR has continually worked to improve the GSCSD study and make the research within it more relevant and useful for the industry, while making relevant adjustments to reflect changes to the industry. NSR led the industry in introducing the assessment and forecasting of commercial services using High Throughput Satellite (HTS) capacity as well as being one of the first to make specific projections for growth in Ultra HD channels within the video distribution and DTH markets.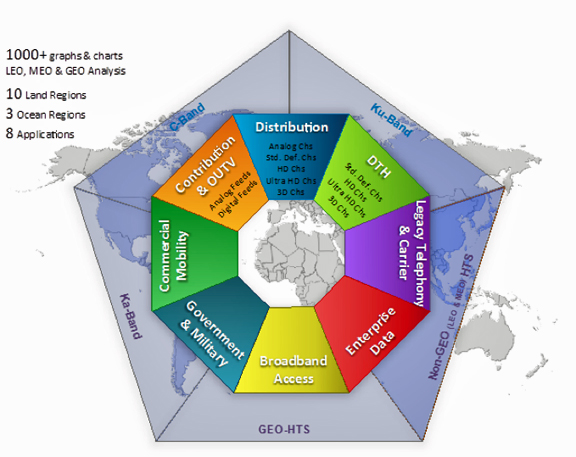 2015 will see one of the most significant scope expansions in the history of this study. Notably, the report will segment GEO-HTS capacity into C-, Ku-, and Ka-band frequencies, reflecting the increasing "flavors" of capacity becoming available. Beyond this, NSR is the first analyst firm to offer a full global forecast for the impact of LEO-HTS in quantitative terms, leveraging an extensive constellation database and demand figures based on addressable markets and expected target applications. Finally, GSCSD12 will offer the addition of the Indian Ocean Region, bringing the region count to 13, including 10 land regions and 3 ocean regions.