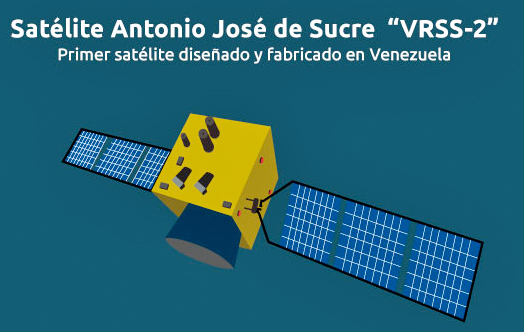 Venezuela has launched the nation's third satellite — Antonio Jose de Sucre (VRSS-2) — into orbit from the Jiuquan Launch Center in the northwestern Chinese province of Gansu via a Long March 2D rocket.
The launch occurred at midnight local time, according to the telesur online infosite. Authorities say the new satellite will provide a better tool for monitoring agriculture health, energy food, security, socio-natural risk management and security.
The highly sophisticated device is equipped with both high definition and infrared cameras and will monitor regions by photographing and imaging designated areas every four days. Officials believe this feature will be particularly helpful in controlling criminal activity.
Sucre has perfected a work done by Miranda [the nation's second satellite launched in September of 2012] over the succeeding five years, both for the exploration of mining and the protection of our frontiers, and to strengthen the work of the Orinoco Mining Arc with more information and data to clarify better actions in the economic and productive development of the country," said a government official.
The two platforms will orbit near one another other during the transfer of data and information. Scientists believe Miranda may have at least two operational years remaining.
Venezuelan President Nicolas Maduro said the new Antonio Jose de Sucre satellite "will be sovereign, independent, and so we will go to the fourth, fifth, sixth satellite and the development of the highest technology in Venezuela. The nation is moving forward. We are being beaten, yes, but we are moving forward with work, government and defense of the country," he insisted.
More than 100 young Venezuelans are believed to have been involved in the satellite's design, structure, and construction.