Considering the alarming headlines recently of violent situations in public schools a product such as BAE Systems' Geospatial eXploitation Products™ (GXP®) OpsView™ solution would be an asset, and currently is being used by an increasing number of local law enforcement, private security, and public safety organizations across the country to enhance operational planning and incident response.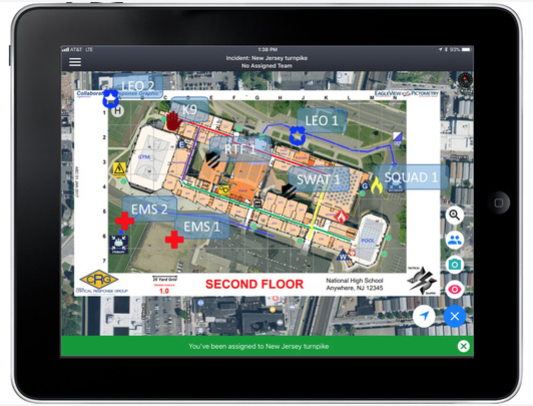 The Northern New Jersey Urban Area Security Initiative was the first to adopt the technology, while New Jersey's Ocean County and Warren County Prosecutor's Offices have deployed the solution in the past year, both of which use the solution to protect schools and other critical infrastructure. Additionally, they are working with a New Jersey-based Critical Response Group, Inc. to make emergency plans accessible and understandable for all first responders.
Leveraging communication protocols developed through advanced military operations, GXP OpsView increases the safety of critical infrastructure by providing a common operating picture to support real-time situational awareness and full operational visibility.
Dana Poirier, general manager of Advanced GEOINT Systems at BAE Systems said that GXP solutions assist military, security, and public safety operations all over the world. With GXP OpsView, they can dramatically improve the ability of first responders to efficiently act in emergency situations with the highest level of operational success.
Delivering a visual representation of emergency action plans via Collaborative Response Graphics®, GXP OpsView enables a central command center to assign tasks, coordinate deployment, and provide ongoing communications to responders throughout an event or crisis. Real-time location of all field operatives is tracked via mobile devices, and responders can upload and share critical field data (such as photos) with all involved personnel, ensuring effective incident response.
Phil Coyne, president of Critical Response Group said that the public safety community has struggled to solve the significant problem of how to reduce the inherent complexity of an emergency at its earliest stage. "We believe that a first responder will now be capable of quickly and effectively communicating across response disciplines, which can translate into lives saved."
The GXP® group develops industry-leading geospatial-intelligence software and solutions for data management, image exploitation, geospatial production, full-motion video analysis, and intelligence reporting.
Collaborative Response Graphics are developed by Critical Response Group, Inc., a team of dedicated, experienced, and proven professionals from the U.S. Military Special Operations and domestic public safety communities that leverage best practices and cutting-edge technology to protect the public and critical infrastructure.