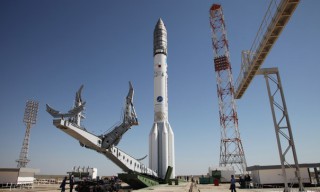 [Satnews] A Proton booster will be launched for European Space Agency needs, according to the EDRS program, from the Baikonur spaceport on January 27, 2016, as said by ESA head Johann-Dietrich Wörner.
This is the first orbiting component of the European Data Relay System (EDRS), aka the "SpaceDataHighway," described as "the most sophisticated laser communication network ever designed"
"The launch of Proton booster from Baikonur spaceport in the framework of European EDRS program is planned for January 27, 2016," Wörner said.
Wörner also remarked that the launch of Rokot booster with Sentinel-3A satellite will occur from the Plesetsk spaceport on February 4.
The Sentinel-3 will provide data continuity for the ERS, Envisat and SPOT satellites.