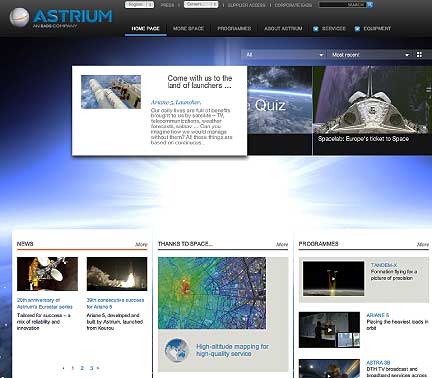 [SatNews] Astrium has today launched a range of innovative satcom products designed to optimize network efficiency, maximize bandwidth and increase mobility for their end-users.
SmartDeploy, KeystoneProteus and MobilePatrol MPS450
are three new products that have been developed by
Astrium Services' Secure Satcom Systems division
, which has over 25 years of experience in the design, manufacture, installation and maintenance of advanced satcom networks.
SmartDeploy is a comprehensive suite of tools designed to plan, implement, optimise and manage secure satcom networks.
This means that the end-user can actively configure, control and monitor all elements of a specific network, enabling them to increase the efficiency and responsiveness of the network to operational changes. SmartDeploy is scalable, modular and flexible, enabling easy integration into existing satcom operations.
KeystoneProteus is a next-generation satellite modem for secure military communications.
Designed for fixed, land mobile, airborne and naval platforms, KeystoneProteus maximises satellite bandwidth efficiency and data throughput while offering robust protection against jamming and interception. The modem uses software-defined radio (SDR) principles to offer unparalleled flexibility, lower through life costs and the means to maintain interoperability as network-centric architectures evolve.
MobilePatrol MPS450 is a compact, fully automated man-portable satellite terminal, requiring no assembly and featuring rapid single button deployment.
The unit is simple to use, lightweight and small enough to be transported as checked baggage. It is ideally suited to provide secure global communications for military or government personnel operating in remote or hostile environments.
Aidan Joy
,
Managing Director of Astrium Services' Secure Satcom Systems
, speaking at the launch of these products at Global MilSatCom in London said: "Today's satcom networks have become critical to front line operations, and as such they need to be highly responsive to changes in priority, connectivity, capacity and security.
"This latest product
offering from Astrium means that we can provide our customers with comprehensive control over their networks while maintaining flexibility; increase the throughput of their networks, without compromising security; and ensure their connectivity wherever the location
."
  These products are the latest example of Astrium's position as the leading European supplier of high-security satellite communications equipment and networks, with decades of experience in the design, manufacture and test of hardened spacecraft and high-technology secure communications systems.