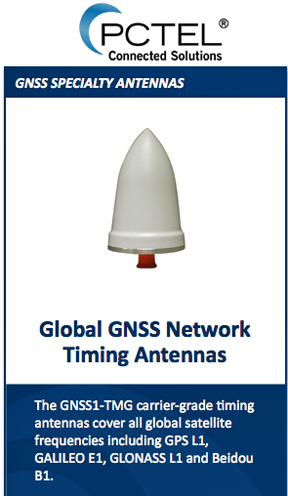 [SatNews] PCTEL, Inc. (PCTI) has launched its next generation multi-band GNSS antennas for global timing and precision tracking applications.
The new antennas, which are designed for use with GPS, GLONASS, BEIDOU, and GALILEO systems, will be showcased along with other PCTEL antennas at the ION GNSS technical conference and exhibition being held in Nashville on September 18th and 19th.
Equipment providers for carrier network timing, precision agriculture, and global asset tracking applications need a single antenna solution for global deployment. Compatibility with the Global Positioning System (GPS), which is owned and operated by the United States government, remains a standard requirement on equipment for timing and precision navigation information. However, given the growing number of satellite location systems being deployed around the world, many governments and agencies are requiring compatibility with nationally or regionally adopted systems. Russia has developed the GLONASS satellite, China has launched the BEIDOU constellation, and the European Union is developing its own satellite navigation system called GALILEO. Global GNSS compatibility will become more challenging in the years ahead.
PCTEL's new GNSS1-TMG-26N and GPS-LB12GL-MAG antennas address global compatibility issues for two of the industry's most crucial applications. For critical timing applications for macro and small cell deployments, PCTEL has developed the GNSS1-TMG-26N antenna. The GNSS1-TMG-26N is a fixed mount network timing antenna covering GPS, GLONASS, BEIDOU, and GALILEO system frequencies in one single unit, making it a true global solution. For global precision navigation applications, PCTEL has developed the GPS-LB12GL-MAG to cover GPS L1, GPS L2, GLONASS, and L-BAND constellations. The GPS-LB12GL-MAG's multi-band coverage addresses the precision market in the USA as well as differential correction signals needed across Europe and Asia.
PCTEL will display its new GNSS antennas and other mobile and GPS antennas September 18-19, 2013 at ION GNSS, Booth #318/320.