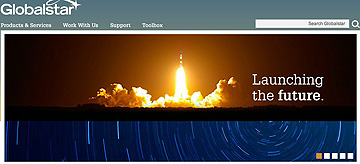 [SatNews] Success...Globalstar, Inc. (Nasdaq:GSAT), announced that it has completed pre-operational testing of its first new, second-generation satellite, and the spacecraft has successfully processed its first commercial telephone call.
The new satellite is the
first of six that were launched earlier this fall and is now ready to fully support voice and duplex data services.
Four of the satellites are planned to be operational in the next 6 weeks with the remaining two expected to be deployed near the end of the first quarter 2011. Globalstar is a leading provider of mobile satellite voice and data services to businesses, government, and individuals.
"Following successful intensive testing of the new spacecraft by our satellite operations control center and engineering personnel,
we are pleased to announce that the first Globalstar commercial call using our new second-generation satellite was processed for a customer calling in Korea and we are proceeding with testing and deployment of the remaining five satellites
," said
Tony Navarra
,
President of Global Operations for Globalstar, Inc.
Globalstar also announced it is
making final preparations to accept delivery of two new second-generation satellites from manufacturer Thales Alenia Space.
Deliveries are expected to begin next week for the second batch of six Globalstar satellites
due to be launched from the Baikonur Cosmodrome in Kazakhstan, using the highly reliable Soyuz launch vehicle.
Mr. Navarra added, "Today's announcement and the anticipated deliveries of our new spacecraft for our
second satellite launch represent further milestone achievements for our second-generation satellite operations.
Once more I applaud our highly skilled global operations employees as well as those at Thales Alenia Space, who helped make today's announcements possible."
Globalstar signed a contract with satellite manufacturer Thales Alenia Space in late 2006 for the design, manufacture and delivery of its second-generation constellation satellites. In 2007 Globalstar contracted with launch services provider Arianespace for a total of four launches of six satellites each using the Soyuz. Globalstar plans to integrate the 24 new second-generation satellites with the eight first-generation satellites that were launched in 2007, to form a 32 satellite constellation.
As each new Globalstar satellite becomes operational, service availability and reliability improvements will benefit those customers who use the Company's voice and Duplex data services.
With each subsequent launch, these customers can expect a progressive return to the high quality system access and data session performance metrics customers enjoyed before 2007
.
The new satellites are
designed to support Globalstar's current lineup of voice, Duplex and Simplex data products and services including the Company's lineup of SPOT retail consumer products.
The advanced constellation combined with the Company's next-generation ground network, expected to be installed by 2012, is designed to provide Globalstar customers with enhanced future services featuring increased data speeds of up to 256 kbps in a flexible Internet protocol multimedia subsystem (IMS) configuration. Products and services supported are expected to include:
push-to-talk and multicasting, advanced messaging capabilities such as multimedia messaging or MMS, geo-location services, multi-band and multi-mode handsets, and data devices with GPS integration.