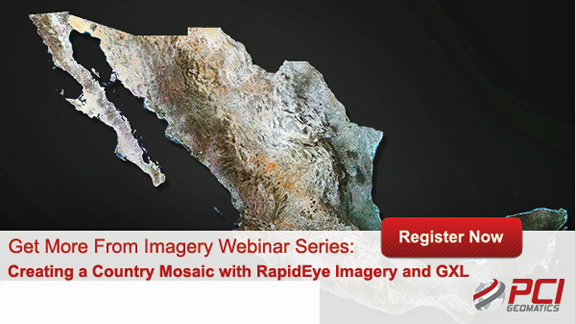 [Satnews] PCI Geomatics is presenting another in their "Get More From Imagery Webinar Series" — this new event is entitled "Creating a Country Mosaic with RapidEye Imagery and GXL."

PCI Geomatics, together with partner the National Comisión for the Knowledge and Use of Biodiversity (CONABIO), recently revealed a complete mosaic of Mexico which was produced by a single operator based on more than 25,000 RapidEye images through the use of a GXL large volume image production system.
The following topics will be covered in this webinar:
Introduction to BlackBridge, and RapidEye imagery, key advantages
Case study walk through - processing the Mexico Mosaic
CONABIO's experience using RapidEye imagery and GXL software

Background on CONABIO and use of Earth Observation
Techniques applied to handle image selection (cloud cover, seasonality)
Editing seamlines
Automated color balancing approaches
Reducing hot spots
Adjustments applied, editing
Publication of the Mosaic, use in Mexico

Live demonstration / review of Mosaic processing environment
The webinar will be held on the following dates and times:
December 8, 2015, at 9:00 a.m., EST (14:00 GMT)
December 9, 2015, at 4:00 a.m., EST (09:00 GMT)

Please access this direct link to register for this informative webinar...