[SatNews] For over 40 years, Forecast International has been the premier provider of Market Intelligence Services to the Worldwide Aerospace, Defense, Electronics, and Power Systems Industries. Below are samples of Forecast International services.
Summary — Space Systems Analyses
Each Market Segment Analysis includes a discussion of market trends, detailed production and value forecasts covering 2015-2024, in-depth overviews of principal market motivators and constraints, and projected manufacturer market share.
The Market for Civil & Commercial Remote Sensing Satellites
Annual Release Date: May 2015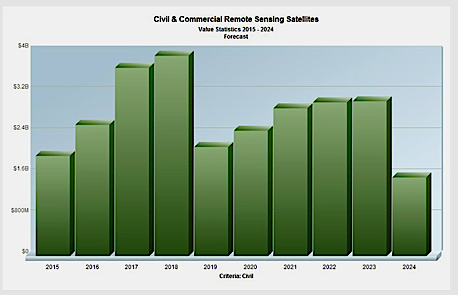 Key Findings
Forecast International's latest value of production estimate for civil and commercial remote sensing satellite systems is approximately $27.1 billion between 2015 and 2024. During that time, FI estimates that 304 such satellites will be manufactured. The top five manufacturers by value of production will be Airbus Defence and Space, Thales Alenia Space, Mitsubishi Electric, Lockheed Martin, and Ball Corporation, together accounting for roughly $14.64 billion in sales over the forecast period, or 54 percent of the total market. Learn More.
The Market for Commercial Communications Satellites
Annual Release Date: June 2015l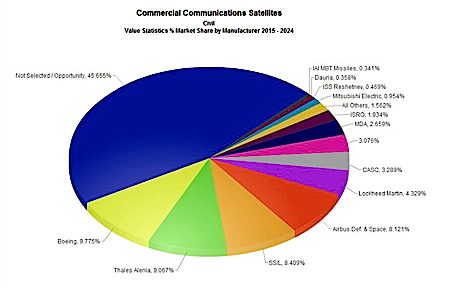 Key Findings
Forecast International estimates that over the next 10 years, 430 commercial communications satellite systems will be manufactured, valued at approximately $60.2 billion. The top five commercial communications satellite manufacturers during the decade will be Boeing, Thales Alenia Space, MacDonald, Dettwiler and Associates (MDA - which purchased Space Systems/Loral), Airbus Defence and Space, and Lockheed Martin. Learn More.
The Market for Military Satellites
Annual Release Date: September 2015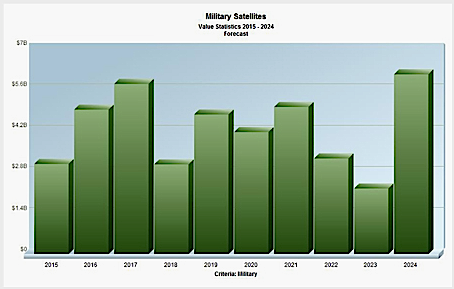 Key Findings
From 2015-2024, Forecast International projects that approximately 234 military satellites of various types, having a total value of about $40.5 billion, will be produced. The top player in unit production will be ISS Reshetnev, followed by China Aerospace Science and Technology Corp (CASC). Lockheed Martin will lead in terms of value of production, followed by Boeing. Learn More.

Space Systems Forecast - Satellites & Spacecraft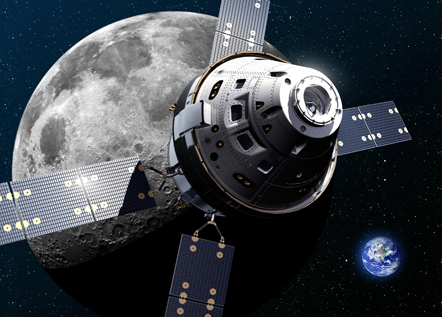 An annual subscription to this Market Intelligence Service provides all three analyses listed above, plus 85+ individual reports covering satellites ranging in size from small Skybox Imaging SkySats to large Boeing 702HPs. You also will receive an in-depth review of the U.S. Government's Space Budget as well as a data set of our forecasts in Excel format. Learn More.