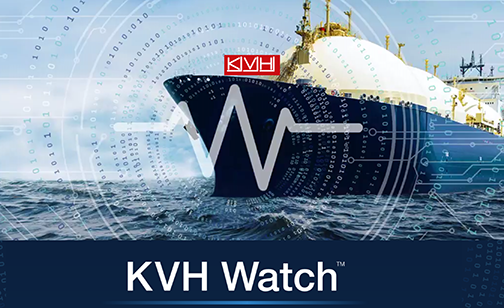 KVH Industries, Inc., (Nasdaq: KVHI) has announced that KONGSBERG is the company's first major partner for KVH Watch™ IoT Connectivity as a Service — KVH Watch will provide connectivity for Vessel Insight, a new maritime data infrastructure solution from KONGSBERG's Kognifai digital ecosystem.
Vessel Insight enables customers to cost efficiently capture and aggregate quality data from their assets, and securely transfer them to the cloud. Once data is available in the cloud, customers get access to a large range of leading applications and services that can turn their data into business value and optimize performance at sea.

Kongsberg Digital plans to use KVH Watch IoT Connectivity as a Service as an offer in their digitalization product portfolio, featuring two modes: Watch Flow, for 24/7, machine-to-machine data delivery compatible with major IoT ecosystems such as Kognifai; and Watch Intervention, for on-demand high-speed sessions for face-to-face support and remote equipment access.
Vigleik Takle, SVP for Maritime Digital Solutions at Kongsberg Digital, said that KVH's fast, global, and reliable connectivity provides Vessel Insight users with connectivity options for end-to-end solutions that deliver the real-time monitoring and intervention benefits of machine-to-machine IoT. KONGSBERG offers its Kognifai services to our customers with choices, be it an existing connectivity solution, or an IoT connectivity solution such as KVH Watch. Dedicated, end-to-end IoT connectivity with tight integration for monitoring and options for full video bandwidth in periods of remote support will provide customers with higher performance and reliability

Robert Hopkins, Jr., KVH's Senior Director for Maritime Services, added that KVH Watch leverages the firm's unique end-to-end maritime connectivity services and HTS network to offer an innovative business model of IoT Connectivity as a Service.