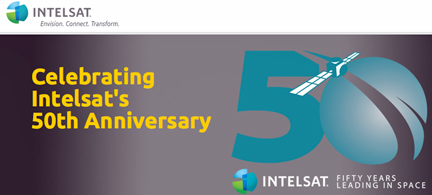 [SatNews] Since it was first announced, 4K Ultra High Definition Television (4K UHDTV) has been met with both excitement and skepticism within and outside of the media industry.
According to new research from Intelsat S.A. (NYSE: I), 4K UHDTV will be main stream within 10 years. In fact, 42 percent of Intelsat's survey respondents stated that they have made a firm decision to launch a 4K UHDTV service and have a specific timeframe for its roll out (23% within the next four years). The main driver cited by media companies was the ability to provide the competitive differentiation necessary to attract new subscribers to their linear broadcast and cable television channels.
Intelsat surveyed technical and non-technical (primarily marketing) media executives from its global customer base, which is comprised of many of the world's largest media companies that conduct business on a regional and global basis. The nearly 80 respondents represent a statistically significant sample of the pool of potential respondents.
While the majority of respondents believe that 4K UHDTV adoption is inevitable–in stark contrast to initial views of the 3DTV trend from several years ago–there is disparity in terms of what segments and business models are regarded as likely to adopt 4K UHDTV first, with non-technical executives having significantly different views from technical executives. Digital cinema (38 percent), over the top (OTT) and direct-to-home (DTH) are the most widely mentioned segments for 4K UHDTV to gain momentum and those views differ sharply between technical and non-technical participants. In addition, 60 percent point to video on demand as the business model expected to first gain momentum, almost double the 34 percent stating that linear channels will be the first to do so.
"While it is becoming more evident that the transition to 4K UHDTV is highly likely, the road to adoption will take many paths, given the business model evolution resulting from the multi-screen viewing environment," said Peter Ostapiuk, Vice President, Media Product Management, Intelsat. "As with high definition television, socio-economics, demographics and technology infrastructure will determine the adoption timeline. This time, however, media companies are more focused on building the right business model that will enable them to deliver high quality and reliable content delivery across multiple platforms and, at the same time, achieve a strong return on their investment."
Media professionals surveyed believe that the pace of 4K UHDTV adoption will vary by region. For example, 47 percent believe 4K UHDTV will first take hold in Asia Pacific; 34 percent expect North America to be the early adopter and only 16 percent believed Western Europe would be the first to roll out the new technology. Respondents cited higher transmission and content production costs (67 percent), availability of more efficient transmission technologies (62 pecent), affordable television sets (51 percent) and ability to achieve a return on their investment (71 percent) as issues of greatest concern to them going forward. Roughly a third of those surveyed stated that a critical mass of content (38 percent), sufficient household penetration (35 percent) and available 4K UHDTV-enabled set top boxes (31 percent) are important factors in accelerating the roll-out of 4K UHDTV. Movies (53 percent) and sports (42 percent) are the most widely identified types of 4K UHDTV content expected to gain momentum first.
"Satellite will positively impact the adoption of this new and exciting technology and serve as a strategic partner to media customers," continued Ostapiuk. "It's clear that our customers will introduce 4K UHDTV as a way to distinguish their brands, and the ubiquitous and extremely high quality of satellite will deliver an immersive experience with cost efficiency. With the ability to easily handle transmission of multiple viewing formats across a hybrid distribution infrastructure, Intelsat is prepared to support this emerging growth opportunity for our global media customers."
Additional information is available at this link.