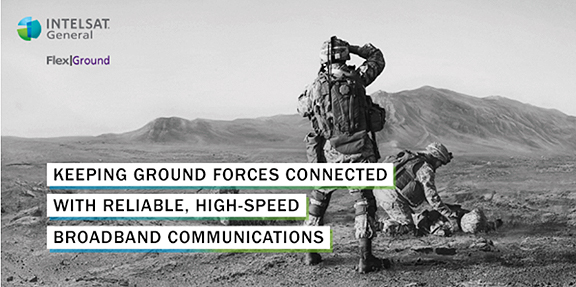 It's crucial for today's defense and humanitarian agencies to be able to deploy ground forces quickly and stay connected to them wherever they are — yet, options for ground communications today are often expensive, unreliable, and lack true broadband connectivity for mobility applications.
FlexGround from Intelsat General is uniquely positioned to fit the needs of ground forces worldwide. Its industry leading Comms-on-the-Pause (COTP) offering provides secure, agile, high-performing ground communications.
Tune in to the Keeping Ground Forces Connected with Reliable High-Speed Broadband Communications webcast to learn how to leverage the advantages of FlexGround to ensure ground users have immediate connectivity at high data rates anywhere around the world. The webcast will be conducted on September 25, from 2:00 to 3:00 p.m., ET.
This digital event is free to attend! Gain access to this webcast by registering at this direct link...