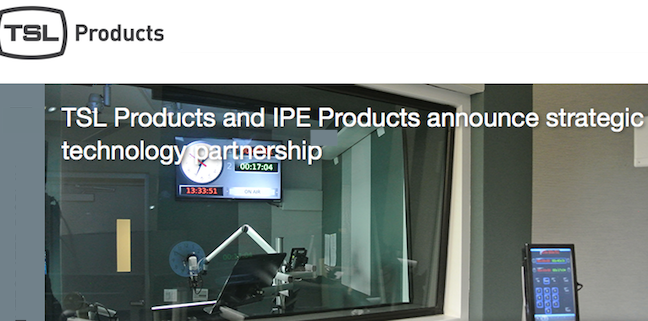 [SatNews] Broadcast equipment manufacturer, TSL Products, announces its appoint Burst as a reseller for its entire line of audio monitoring products, surround sound microphones, broadcast control and power management systems.
TSL Products designs, manufactures and markets a range of hardware and software solutions that serve the television broadcast, cable, satellite, IPTV and IT industries.
Headquartered in Denver, Colorado, with satellite offices in Arizona, California, New Mexico, Texas and Utah, Burst will be responsible for selling, installing and supporting TSL Products solutions throughout the Rocky Mountains and South West regions.

"Burst has a long standing history of supporting broadcast and AV customers in the Rocky Mountains and South West regions. They have years of experience in all stages of system design and they approach business as true solution providers to a wide base of loyal customers," said John Root, Director of Sales - TSL Products for North America.
"We are pleased to be adding TSL Products to our portfolio of solutions," said Kirk Basefsky, Owner at Burst. They are a perfect complement to our current line of offerings. From houses of worship to sports facilities, educational institutions and local broadcasters, TSL Products professional audio solutions are ideally suited to fit the needs of our varied customer base."
TSL will be co-exhibiting with Burst on booth #33 during the 62nd Annual Convention & Trade Show of the Texas Association of Broadcasters(TAB) taking place at the Renaissance Austin Hotel from August 5-6, 2015.