An event in Germany coming this October is German Unity Day in which organizers at the International Astronautical Congress 2018 are opening their doors to everyone on "Public Day". Here visitors will meet and experience high-level representatives from science, politics, and industry, and experience a live call that is planned to take place to the International Space Station (ISS).
Over 4,500 experts will meet during the International Astronautical Congress 2018 (IAC 2018) to discuss the immense scope of the various space-related disciplines, and interested members of the public are also invited.
The highlight event Space is Big – Space is Public, is currently planned to begin at 1:30 pm with a roundtable discussion on Space Safety. The subject: How can space traffic be regulated? How to avoid collisions in outer space? The number of space objects in orbit is steadily on the increase. Along with the many satellites space debris or junk has increased to about 750,000 objects larger than 1 cm! Sun storm and cosmic radiation from other distant sources are just some of the other hazards that dictate space weather and which impact the Earth's climate and terrestrial technology causing disruptions and malfunctions in our power grids, etc. The discussion also includes "planetary defence systems": These ensure early warnings about possible asteroid or comet impacts, and their avoidance or mitigation. Is playing billiards with comets an option we need to consider seriously?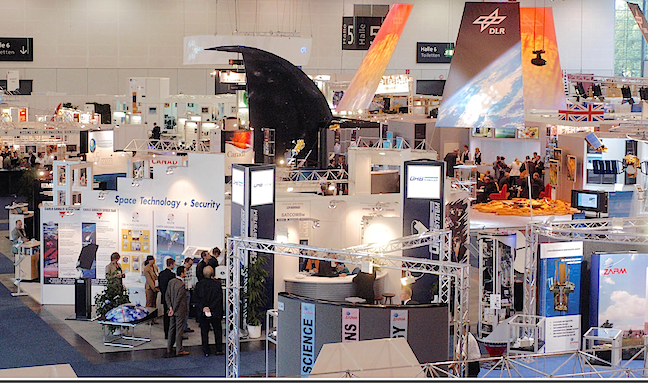 At 2:30 pm, the audience will tune-in live to the International Space Station, ISS. The schedule currently includes a live session with Alexander Gerst, who will be the second ESA and first German commander of the International Space Station in the twenty years of its existence. Gerst launched to the International Space Station (ISS) on June 6, 2018, for his mission 'Horizons – Knowledge for Tomorrow', his second mission is to work on the largest international technology project in the history of humankind.
In this scientific laboratory, the major spacefaring nations are joining forces to develop solutions for the global challenges of society: 'Health, Environment and Climate Change', as well as 'Digitalization, Industry 4.0, Energy Supply and Mobility of Tomorrow'. He will carry out 65 European experiments – the German Aerospace Center contributes to 41.
Then at 2:45 pm, visitors will be able to get close-up to the astronauts as they report on their experiences in outer space, and they will answer questions from the audience.
The space exhibition will be available from 12.00 am in which the space industry, research and space agencies, from America's NASA to the Chinese CNSA, will be exhibiting in Exhibition Hall (Hall 5). German space organizations and such as Bremen's space community can be found along the "Team Germany Boulevard" as well as the Center of Applied Space Technology and Microgravity (ZARM) at the University of Bremen in collaboration with the German Aerospace Center DLR, OHB, Airbus, ArianeGroup, MT Aerospace and the City of Space Bremen. The privately-run International Space University (ISU) as well as the University of Bremen will be present and the U of Bremen will present its new Masters programs in space science and technology.