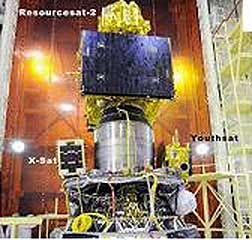 [SatNews] Persistance paid off for the Indian space agency ISRO.
The Indian space agency ISRO on Wednesday successfully launched three satellites, including Resourcesat-2, an advanced remote sensing satellite to study natural resources.
ISRO's satellite launch vehicle was also carrying the joint Indian-Russian satellite Youthsat that weighs 92-kilograms, for stellar and atmospheric studies. Additionally, accompanying Youthsat was Singapore's first satellite,
X-Sat, a mini satellite for imaging applications.
The Polar Satellite Launch Vehicle (PSLV-C16) took off from the
Sriharikota
launch site in eastern India. This success was a relief for the Indian Space Research Organization after a series of failed launches.
Resourcesat-2, the mission's biggest satellite weighs in at 1,206-kilogram, will replace Resourcesat-1, which was launched in 2003.
India is looking to emerge as a global player in the lucrative satellite launch market.