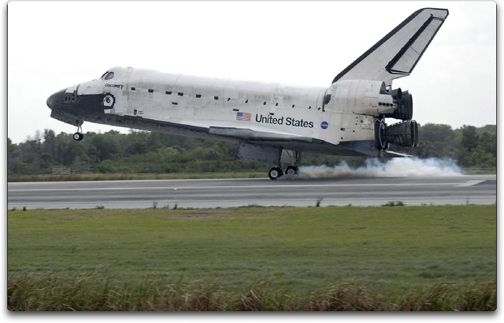 NASA officials congratulated the entire mission team for an extraordinary effort put forth for the successful launch of Discovery and achievements of the STS-119 mission.
Discovery touched down on Runway 15 at NASA's Kennedy Space Center, completing the 13-day, 5.3-million mile journey on the STS-119 mission. Discovery delivered the final pair of power-generating solar array wings and the S6 truss segment. The mission was the 28th flight to the station, the 36th flight of Discovery and the 125th in the Space Shuttle Program, as well as the 70th landing at Kennedy. Image Credit: NASA/Kim Shiflett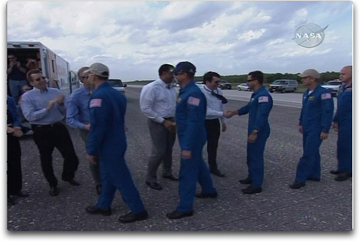 NASA Associate Administrator for Space Operations
Bill Gerstenmaier
expressed his appreciation to the international teams working together to accomplish a very ambitious mission integrating hardware made in different countries that work together."
It really took all the countries working together to pull this off
," Gerstenmaier said. "I also can't say enough about the people that work on the shuttle," referring to the enormous effort to prepare the shuttle and resolve the issues that delayed the launch.
Image above: STS-119 crew members are welcomed by NASA officials and Kennedy employees. Photo credit: NASA TV.
NASA Space Shuttle Program Deputy Manager
LeRoy Cain
remarked how extremely well the teams worked together on a very complex mission. "
I think we left the station in a configuration we can all be very proud of
. It's an amazing team that makes these missions happen," said Cain. "There isn't anything that this team can't accomplish."
NASA Launch Director
Mike Leinbach
congratulated the team for how well Discovery performed. "It's good to have Discovery home, it looks great," said Leinbach. "The crew was ecstatic about how it performed on orbit, and we're ready to get on with the next one."
Leinbach was referring to the next two space shuttles being prepared:
Atlantis for the STS-125 Hubble Servicing mission and Endeavour's STS-127 mission to the International Space Station.