NanoRacks has successfully completed their 4th External Cygnus Deployment mission after commands were sent to the Cygnus spacecraft from Orbital ATK's Mission Control at that firm's Dulles headquarters.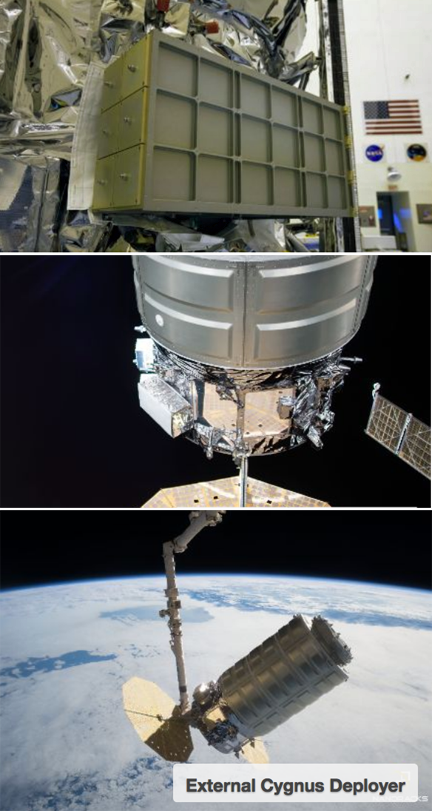 The Orbital ATK CRS-8 mission launched on November 12, 2017, carrying NanoRacks' fourth mission providing opportunities for CubeSat deployment from Cygnus after the vehicle departs from the International Space Station. Prior to launch, the NanoRacks External Cygnus Deployer is installed on the exterior of the Cygnus service module with the capability to deploy satellites after the spacecraft completes its primary space station commercial resupply mission.
After departing from the Space Station, Cygnus was elevated to an altitude of 450 kilometers before deploying the satellites.
On this External Cygnus Deployment mission, NanoRacks deployed 14 satellites with customers that included Spire, Asgardia, Tyvak, NASA's Jet Propulsion Laboratory (JPL), and more. Also a part of this External Cygnus manifest were The Aerospace Corporation's Optical Communications and Sensor Demonstration (Aerocube 7B/C) satellites, water-based propulsion smallsats. The ISARA and Aerocube 7B/C satellites deployed in this mission were funded through NASA's Small Spacecraft Technology Program (SSTP), which is chartered to develop and mature technologies to enhance and expand the capabilities of small spacecraft with a particular focus on communications, propulsion, pointing, power, and autonomous operations.
The NanoRacks External Cygnus Deployer released the following satellites:
ISARA
PROPCUBE-Fauna
Lemur-2 (8 CubeSats)
Aerocube 7B/C (2 CubeSats)
Asgardia-1
CHEFSat
Senior Mission Manager Henry Martin at NanoRacks said that the company is proud to be the primary program on the OA-8 Cygnus secondary mission. This successful mission further exemplifies the growing opportunities for the company's diverse customer base in LEO. NanoRacks has now deployed more than 200 satellites across all of our platforms. This is a big milestone for the firm and all are especially pleased to further contribute to the growth of Spire's global ship, weather, and aviation tracking constellation in LEO.