[Satnews] The U.S. Navy and Lockheed Martin (NYSE: LMT) delivered the fifth Mobile User Objective System (MUOS) satellite to Cape Canaveral Air Force Station, Florida, on March 3, prior to its expected May launch.

The spacecraft will be the third MUOS satellite launched in a 16-month span, a cadence that demonstrates the production line concept put into place for the delivery of this five-satellite build.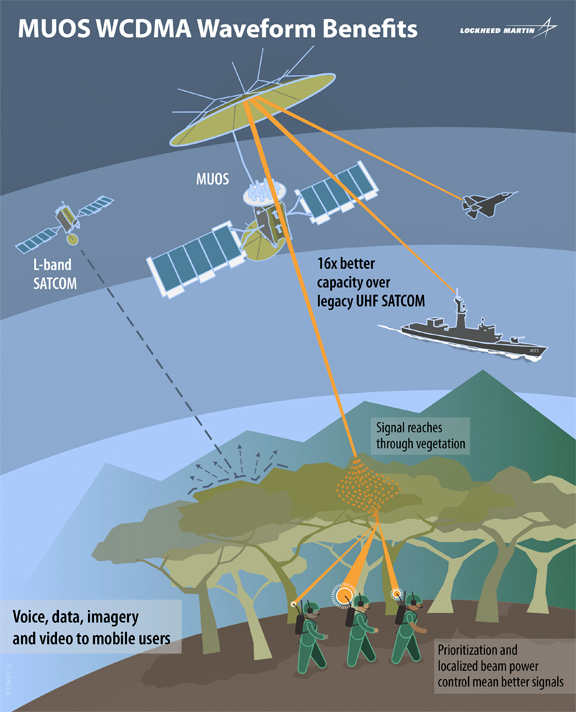 MUOS-5 is the latest addition to a network of orbiting satellites and relay ground stations that is revolutionizing secure communications for mobile military forces. Users with operational MUOS terminals will be able to seamlessly connect beyond line-of-sight around the world and into the Global Information Grid. MUOS' new capabilities include simultaneous, crystal-clear voice, video and mission data, over a secure high-speed Internet Protocol-based system, similar to today's smart phones.

MUOS-5 will complete the Navy's baseline constellation and serve as an on-orbit spare for the system, ensuring the network is always available to support U.S. and allied mobile forces.
Lockheed Martin manufactured MUOS-5 at its Sunnyvale, California facility. For its trip to Florida the satellite was loaded aboard a C-5 Galaxy aircraft at nearby Moffett Federal Air Field by the 60th Air Mobility Wing of Travis Air Force Base. Astrotech Space Operations, a Lockheed Martin wholly-owned subsidiary in Florida, will complete MUOS-5's pre-launch processing.

The satellite joins MUOS-1, MUOS-2, MUOS-3, and MUOS-4 already on orbit. All four required MUOS ground stations are complete. More than 55,000 currently fielded radio terminals can be upgraded to be MUOS-compatible, with many of them requiring just a software upgrade.

Once fully operational, the MUOS network will provide 16 times the capacity of the legacy ultra high frequency communications satellite system, which it will continue to support, and eventually replace.
"As MUOS-5's launch approaches, MUOS-4 is preparing to begin operations on-station, enabling MUOS' near-global coverage," said Mark Woempner, program director of Lockheed Martin's Narrowband Communications mission area. "We are proud that we will soon be providing our mobile forces access to the system's enhanced communications capabilities from nearly anywhere, including further into polar regions than ever before."



For additional information, photos and video visit: www.lockheedmartin.com/muos