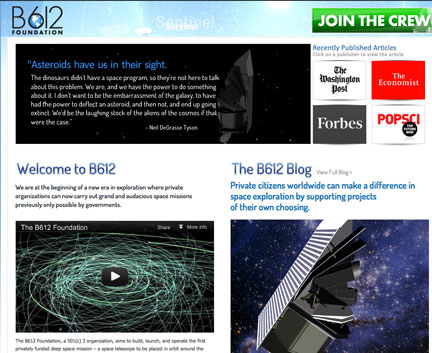 [SatNews] The B612 Foundation has announced the formation and initial findings of its...
...Sentinel Special Review Team (SSRT) to aid B612 in building the world's first privately funded deep space mission to protect Earth by providing early warning of threatening asteroids. The SSRT will provide technical advice and assistance during the development and operations of the Sentinel Space Telescope mission. Members include scientists and aerospace experts independently selected by the B612 Sentinel leadership, and members assigned by NASA, which is providing technical support through a Space Act Agreement.
"Because the ultimate success of the Sentinel mission in finding and tracking threatening asteroids is so crucial to humanity, the B612 Foundation felt it was necessary to assemble one of the most experienced spacecraft technical teams on Earth to help it in its mission" said B612 Chairman and CEO Ed Lu. "They will provide the B612 Sentinel team with the best possible unbiased critical evaluation of our plans, as well as ongoing technical advice." Tom Gavin serves as the Chair of the SSRT, having served in similar roles for numerous space missions as Director of Flight Projects and Mission Success at NASA's Jet Propulsion Laboratory.
The SSRT is further comprised of 10 of the world's most seasoned and experienced experts in the aerospace community, within the areas of spacecraft development and operations, program management, launch vehicles, telescope instrumentation, and asteroid detection and tracking. Members include: Steve Battel, Robert Berry, John Casani, Glenn Cunningham, Orlando Figueroa, Stephen Francois, Robert Jedicke, Paul Jones, George Pace, and Mark Saunders. The full list of members and their bios, including the participants provided by NASA through the Space Act Agreement, can be found here.
The first major task of the SSRT was to review the technical requirements and management structure for Sentinel, and to evaluate the feasibility of the proposed plans. This review, dubbed the Program Concept and Implementation Review, was conducted by the SSRT on September 11-13 in Boulder, Colorado, where the Sentinel Spacecraft will be built. Among the specific items reviewed by the SSRT were the:
Sentinel mission requirements for finding and tracking asteroids
Sentinel spacecraft subsystems, including data handling, communications, infrared focal plane, telescope, navigation, etc.
Development, test, and requirements verification plans
Management and organizational plans
Infrared detector development and test plans
The major finding of the first SSRT review was that the Sentinel Mission implementation plans and mission design, as put forth by the B612 Foundation and its partner Ball Aerospace, are technically sound and will lead to a successful Sentinel mission. The SSRT further found that B612 and Ball Aerospace have developed a very viable detection method for finding and tracking Near Earth Asteroids.