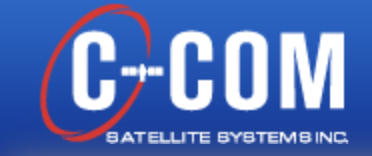 At the upcoming IBC2019 many companies will be sharing their latest and greatest. Among those with their newest will be C-COM's auto-pointing antenna and steerable phased array antenna at C-COM's Booth 5.C55.
Highlighting the latest in C-COM design is the iNetVu® MP-80-MOT, a fully motorized, auto-acquire, 80 cm carbon fiber one-case backpack antenna. This sturdy and lightweight system will point to any programmed satellite with just the push of a button on the NEW iNetVu® 8020 Controller. Highly portable, the multi-segment manpack can be easily hand-carried by one person and assembled in less than 10 minutes without tools.
Also in the booth will be iNetVu® Ka-75V Driveaway, the 75cm, auto-deploy, vehicle-mounted antenna, authorized for use on ViaSat Exede® Enterprise, and on KA-SAT NEWSSPOTTER NEWSGATHERING service by Eutelsat. The system is fully motorized and configured with the iNetVu® 7024 Controller to provide fast satellite acquisition within minutes, anytime anywhere.
The iNetVu® FLY-981 Flyaway will also be on display at C-COM's booth. Paired with the iNetVu®7710 Controller, the fully automatic and transportable 98cm Ku-band flyaway antenna system comes in three robust cases and can be field converted to Ka-band.