[SatNews] All signs now point to satellite broadband access reaching a significant milestone—in fact, 2013 was an unprecedented year for satellite broadband access services with record subscriber growth, likely to be almost 370,000 net new subscribers globally by the end of the year.
NSR forecasts the global satellite broadband access market will add over 4.3 million net new subscribers in the coming ten years with North America seeing the best real gains, nearly 2.4 million new subs by 2022.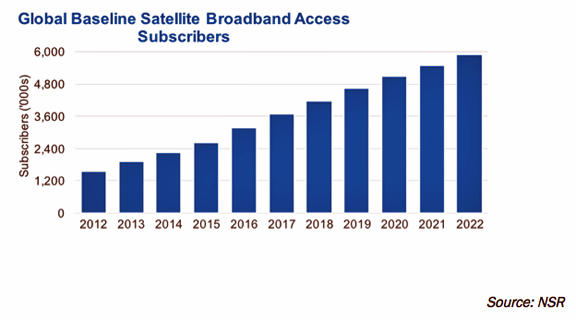 A large part of the success in the North American market is due to consumer perceptions regarding satellite broadband taking a turn for the better. NSR currently expects over 300,000 net new subscribers in North America alone in 2013, which will be the best year ever recorded. This is directly related to the launch of the ViaSat-1 and EchoStar-XVII/Jupiter-1 satellites, which now allow Hughes and ViaSat to offer substantially improved satellite broadband plans that are often on par with aDSL services outside of urban centers. The same is being seen in Western Europe where new plans from Eutelsat and SES Broadband Services now provide some of the fastest satellite broadband access service speeds ever available to consumers.
Beyond these regions, the uptake of NBN Co. Interim Satellite Service (ISS) is running well ahead of forecasts, and industry reports are that the contracted base of 48,000 terminals will be reached in early 2014, about a year ahead of schedule.
NSR is also hearing of strong interest for satellite broadband access services in the Russian market. While industry expectations there today might be described by NSR as "frothy", there nonetheless remains real long-term potential in the country.
Still, not all is perfect. The Western European market, while improving, still has significant challenges related to perception of quality of service, customer awareness of satellite broadband even as a possibility, and government investment programs in national broadband projects that still clearly favor terrestrial solutions.
Further, it must be admitted that subscriber uptake from new players addressing the Middle Eastern & North African and Sub-Saharan African markets was slower than many hoped over the last 12 months. Though, to be fair, it did take the North American market ten years to get to where it is today. So judging long-term success based on such a short time period is simply presumptuous today.
And in Latin America, the long awaited Media Networks Latin America (MNLA) service was finally commercially launched in late 2013. NSR expects it will be 2-3 years before the Latin American market really begins to gain traction in terms of subscriber growth. However, NSR projects the Latin America market could eventually become the third largest in subscriber terms after North America and Western Europe.
NSR is also looking to Asia in the coming 12-24 months for potential new endeavors in markets like Indonesia or even the Philippines. And, of course, longer-term the Indian market still holds enormous potential if the various bureaucratic hurdles could ever be overcome.
Source: NSR
Bottom Line
NSR projects the global base of satellite broadband access subscribers will nearly quadruple in the coming ten years with North America never accounting for less than 60% of the global base of subscribers. Western Europe will maintain its second place position in the global market in terms of subscriber base and net subscriber gains. However, it will also represent a more challenging market for the industry due to the diversity of the region and stronger competition from terrestrial service providers. Latin America could become the third largest broadband access market in the world bypassing Asia in about the middle of the forecast period should the major telcos trying to open the region see significant success.
NSR believes the industry will look back a few years hence and will come to consider 2013 as a turning point in the satellite broadband access market. These days will be seen as the moment when years of industry promise and "talk" final began to turn into a reality. NSR in no way considers that every challenge in the satellite broadband access market has been overcome. Yet, the momentum of the industry has definitely appeared to shift in its favor, and now it is up to the industry to keep up the positive trend for the future of broadband access services.
Information for this article was extracted from NSR's report: Broadband Satellite Markets, 12th Edition.