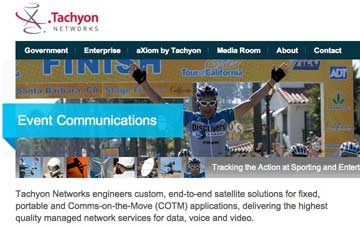 [SatNews] Win win when two companies work together to combine their expertise... today Comtech EF Data and Tachyon announced their agreement to jointly develop airborne COTM solutions, which will deliver the highest bandwidth airborne terminals available in the industry.
This cooperation will focus on the
integration of Comtech EF Data waveforms into Tachyon's aXiom 7000 Series of Integrated Mobile Network Solutions.
Tachyon Networks, developer of the aXiom series of end-to-end remote networking solutions for fixed, portable and comms-on-the-move (COTM) applications and Comtech EF Data, offering the widest range of bandwidth-efficient modems in the satellite industry,
aXiom
7000 Series Solutions
encompass all onboard and
network hardware, application integration, engineering services
, as well as active
network management
and
monitoring for both secure and non-secure, public and private networks
. Specifically focusing on the beyond-line-of-sight (BLOS) needs of today's forward-deployed warfighter, the extended data rates offered by aXiom terminals deliver advanced capabilities such as 3D-HD real-time video.
"Tachyon has distinguished itself as the market leader in end-to-end Airborne COTM solutions", stated
Daniel Enns
,
Senior Vice President Strategic Marketing & Business Development for Comtech EF Data
. "Comtech EF Data is pleased to be working with Tachyon on the next generation of aXiom based airborne networking solutions."
Tachyon and Comtech EF Data have signed an agreement giving Tachyon exclusive rights to a jointly specified baseband modem. This modem board will be integrated into an aXiom 9000 Series Airborne Terminal Router, supporting forward link waveforms in compliance with MIL-STD-188-165A. The return link will support QPSK DVB-S2 at 20 Mbps, enabling the real time transmission of 3D high definition full motion video from airborne assets to BLOS locations on the ground. In addition, a compatible Comtech EF Data ground modem will be integrated into Tachyon's aXiom 3000 series of gateways, which reside within a teleport or Earth station infrastructure, and include the hub, TSS servers, UP/DN converters, spectrum analyzers, HPA, TWTA, SSPA, BUC and UPS.
"The Comtech EF Data waveform offers return data rates that are unmatched in the industry", stated
Dan Negroni
,
VP of Sales at Tachyon Networks
. "These modems will enable us to deliver complete satellite broadband solutions that can stream COMINT, SIGINT and full-motion 3D-HD video simultaneously, and in realtime, at data rates no one else currently approaches. We are thrilled to be able to meet our customers' high bandwidth needs by offering the Comtech EF Data based aXiom solution for delivery by end of 2011."