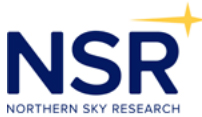 Join NSR as the company explores this vital topic that affects all within the satellite industry and provides key analysis as it relates to capacity pricing now and in future.
Leveraging NSR's industry-leading Satellite Capacity Pricing Index analysis, this free webinar will answer the following critical questions:
What is the current state of the market? How has the lease price performed historically?
Which key drivers influence price across business verticals?
What are the various growth strategies operators or service providers are currently pursuing?
How does the value chain interact, and what conclusions can be drawn from price wars between operators, service providers and customers?
Are the current price points viable?
Are we close to a mass market, terrestrially competitive, positive IRR game from satellite capacity providers?
Will the industry go all in on price? How much turbulence in lease price can be expected in the next year?

Satellite Capacity Pricing: Entering the Next Epoch, will be conducted on Wednesday, December 20, at 10:00 a.m. EDT. Register to attend via this direct link...
Sign up, even if there is a schedule conflict, and receive a copy of the slides and access to the on-demand presentation.
Information regarding NSR's Satellite Capacity Pricing index (Q3 2017), 3rd Edition, report may be obtained by selecting this direct link...
---

Additionally, NSR's VSAT and Broadband Satellite Markets 16th Edition report found an industry primed for growth again after several challenging years — the company forecasts the entire installed base for fixed VSATs to reach 17.8 million active sites by 2026, generating over $25.6 billion in annual service revenues.
According to Lluc Palerm, NSR Senior Analyst and report author, the Consumer Broadband satellite market is back on the growth track. One key is newly available capacity in North America, which allows the market to add subs again. The NBN program in Australia is adding thousands of new premises per month and, Hughes proved that, with efficient distribution channels, the model can generate attractive levels of demand even in emerging economies. Europe is still far from developing its full potential, but stronger retail focus has yielded initial results. NSR is optimistic about the long term potential of this market.
Lluc then added that, based on new subs and exploding bandwidth consumption over the next 10 years, more than 7 Tbps of new demand will be generated; creating extraordinary opportunities for capacity revenues. Distribution is key for success. The skyrocketing number of subs will also translate into an enormous opportunity for equipment vendors. Margins will be thin in a highly contested ecosystem, but scale is unmatched by any other opportunity in the satellite industry, generating close to 33 million shipped units in the next 10 years.
In the Fixed Enterprise VSAT market, overall prospects are improving. After several very difficult years where macroeconomic pressures and competition deteriorated market conditions, the industry is expanding again. Market elasticity is finally unlocking verticals like Cellular Backhaul, which will generate 3 of every 4 new dollars in Capacity Revenues.
Social Inclusion is another vertical taking off, with several countries planning programs with tens of thousands new sites. Traditional markets are encountering enhanced levels of demand with better prospects for commodities and currency exchange rates stabilizing. The Energy vertical is a good example as activity is on the rise again. Government and Military projects are also expanding.
In summary, NSR estimates the customer base for Enterprise VSAT to expand by 1.3 million new sites generating over $10.5 billion in annual Service Revenues by 2026.