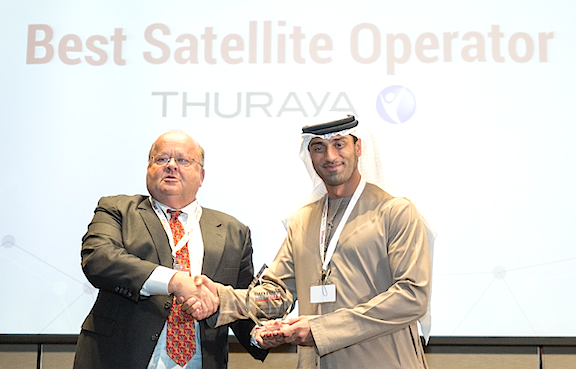 Recognition by one's peers is the best kind of validation, and at the seventh annual It's All About Smart Networking Summit in Dubai, Thuraya Telecommunications experienced just that as they were awarded Telecom Review's Satellite Operator of the Year Award.
The determining factors that lead to this award could be attributed to a successful year of innovation, extension into new markets, and the declaration of unique and progressive next generation capability plans.
With FUTURA, and its clear roadmap for growth, Thuraya is set to become the provider of choice for unified connectivity.
Extending its groundbreaking product portfolio with the launch of XT-PRO DUAL, Thuraya created the world's first dual mode, dual SIM phone.
It also introduced IP Commander, the world's most rugged vehicular terminal; and the FT2225 M2M terminal, which extended reach into North America, operating over ViaSat's L-band MSS network and Thuraya's coverage area.
Thuraya also adopted a notably revolutionary approach to the wearables market, with the WiCis-Sports app running on a Thuraya SatSleeve+ on expeditions to Nepal and K2.
New agreements and partnerships opened exciting new markets in the Maldives, Vietnam, and the Black Sea.
Thuraya is also shortening its development cycle, generating better opportunities and creating products that get to market more quickly. Thuraya's partners enjoy easy access to hardware and software development platforms along with the documentation and support they need to develop innovative and state-of-the-art products and solutions.
Toni Eid, Chief Executive Officer of Trace Media International, said, "Thuraya has been recognized for its innovative approach to every aspect of its business. Its products are groundbreaking and market leading. Its ambitions are clear, and Thuraya is well placed to embrace the new opportunities it is creating for itself with the finalization of its next generation capability plans."
Samer Halawi, Chief Executive Officer of Thuraya added, "We are delighted to have won this prestigious award, because it recognizes that Thuraya offers a compelling alternative. Our approach is to innovate, disrupt and redefine, and we will always be sure to respond to changing market demands by offering something different from what is already available. The fact that also the application of our technology undoubtedly saves and improves lives is both a humbling privilege and a tremendous responsibility."