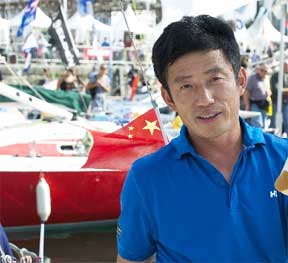 [SatNews] Chinese sailing star Guo Chuan will attempt to set a new world record by...
...circumnavigating the globe single-handed—with support from Inmarsat. Guo promoted his planned attempt at the finale of the Volvo Ocean Race, which reached its conclusion in Galway, Ireland. He came to meet old friends, having previously been a media crew member (MCM) who reported daily race action aboard Green Dragon during the 2008-9 event. Guo followed that up by becoming the first Chinese to cross the Atlantic single-handed, in a 21ft (6.5m) yacht.
For his latest challenge, Guo will depart from his home city of Qingdao, China, in November, in a slightly more roomy 40-ft (12m) yacht—heading east to Cape Horn, South America. His boat will be equipped with a FleetBroadband terminal provided by Inmarsat which will help him send back video and pictures and assist him in plotting a safe course as he attempts to cover 21,600 nautical miles in 130 days. If successful, Guo will set a new record for circumnavigation in a 40-ft yacht, which is much smaller than those used by previous world record breakers including Dame Ellen MacArthur and Francis Joyon. During his promotional visit, Guo also met with crew members from Team Sanya, the China-backed yacht which competed in this year's Volvo Ocean Race.