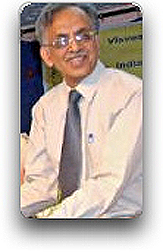 More than 150 officials, satellite services operators, pay-TV platform operators, content providers and telecom carriers gathered yesterday to share insights on the growth prospects of India's satellite services market at the New Delhi India Satellite Forum 2009, part of the Cable & Satellite Broadcasting Association of Asia (CASBAA).
The industry conference
theme was "Satellite Communications: A new era for India"
and was organized in association with the
Convergence India trade show and sponsored by Asia Broadcast Satellite, AsiaSat, Eutelsat, Intelsat, MEASAT, SES New Skies and broadcaster NDTV.
Among participating government officials were
A. Bhaskaranarayana, photo at right
,
Scientific Secretary, Indian Space Research Organisation (ISRO)
,
Uday K. Varma
,
Additional Secretary, Ministry of Information & Broadcasting, India (MIB)
 and 
N. Parameswaran
,
Principal Advisor, Telecom Regulatory Authority of India (TRAI)
. Representatives of India's DTH, digital cable, IPTV, mobile TV and media and telecoms financing sectors also participated.
Mr. Bhaskaranarayana of ISRO
show-cased the extraordinary progress made by the Indian satellite sector, which now boasts some 211 satellite transponders on 11 domestic satellites and was recently boosted by the successful launch of the Chandrayan-1 satellite into lunar orbit
.
Mr. Bhaskaranarayana promised further "high-speed internet access and multi-media via satellite and IP-based services." Other
on-going ISRO initiatives include the enhancement of India's satellite launch program for commercial satellites and a domestically developed global positioning satellite navigation system.
"Thanks to the on-going support of senior government officials, domestic players and the general CASBAA membership, this year's India Satellite Forum has been an extraordinarily successful platform to promote development of the satellite market within India," added
David Ball
,
Chairman of the CASBAA Satellite Industry Committee and Regional VP Asia-Pacific for Intelsat
.  "With the still significant unmet demand from users and strong growth prospects well into the future,
the Indian market lends itself to strong partnership relationships between ISRO and the international commercial satellite operators."
However, during follow-up panel discussions participants also called for the deployment of yet more satellite capacity over India in order to satisfy still pent-up market demand.
"Despite the extraordinary success of ISRO over the past couple of years, the
digital telecoms and DTH markets remain seriously under-provisioned in terms of transponders
," said
Simon Twiston Davies
,
CEO, CASBAA
.
"Commercial satellite services such as VSAT systems delivering national communications backbones and DTH services for home subscribers just can't source enough satellite capacity from the domestic market.
Additional market de-regulation supporting international partnerships is essential."      
Other speakers examined the commercial dynamics for DTH television development and the "
win-win synergies" between the digital cable, broadband, IPTV and mobile TV sectors
. Meanwhile, a
conference segment dedicated to industry regulation noted that powerful interference by uncontrolled deployments of Broadband Wireless Access systems could put dozens of Indian pay-TV channels off the air.
Meanwhile, CASBAA highlighted the "still astonishing potential upside provided by satellites for India's communications needs".  
According to CASBAA, 
India remains a highly competitive market for broadcast services with more than 240 licensed TV channels, some 10 million DTH connections and 4 million digital set-top boxes
. Despite the recent economic down-turn, the industry is forecast to enjoy 4-6 percent growth this year, said CASBAA.