The collaborative efforts of United Launch Alliance and Lockheed Martin Space Systems resulted in a successful launch of a classified satellite dubbed PAN for the U.S. government.
At 5:35 EDT all systems were go, and we watched as the launch took off without a hitch.
Cape Canaveral Air Force Station, Fla – (Sept. 8, 2009) A United Launch Alliance Atlas V rocket with the PAN satellite launches from Space Launch Complex-41 at 5:35 p.m. EDT today. ULA launched PAN on behalf of the Lockheed Martin Space Systems Company. It was the 17th launch of the Atlas V since 2002. Photo by Pat Corkery, United Launch Alliance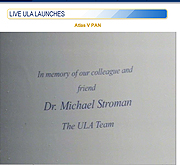 This mission was dedicated to the memory of a valued colleague and friend Dr. Michael Stroman.
"ULA is proud to have played a critical role in the success of this important mission," said
Mark Wilkins
,
ULA vice president of Atlas programs
. "Close teamwork with Lockheed Martin and the
U.S. Air Force's 45th Space Wing at Cape Canaveral made today's launch possible."
This mission was launched aboard an Atlas V 401 configuration and used a single common core booster powered by the RD-180 engine and a single engine Centaur upper stage
. The launch portion of the
mission was completed with spacecraft separation approximately two hours after launch.
ULA's
next launch
, currently scheduled for
no earlier than September 18
, is the STSS Demo satellite for the United States Missile Defense Agency aboard a Delta II rocket from Space Launch Complex-17B in Florida.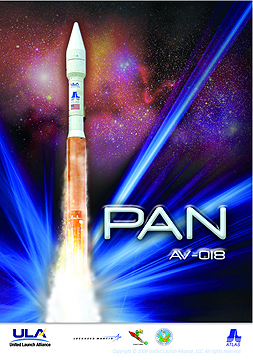 Launch Notes:
This is
third Atlas V launch of the year following the June NASA LRO/LCROSS mission. This mission will launch on an Atlas V 401 configuration and is the 10th mission for ULA in 2009
. The Atlas V launch system includes a range of vehicle configurations and performance levels offered to allow an optimum match to customer requirements at low cost.
ULA program management, engineering, test and mission support functions are headquartered in Denver, Colorado. Manufacturing, assembly and integration operations are located at Decatur, Alabama, Harlingen, Texas, San Diego, California, and Denver, Colorado. Launch operations are located at Cape Canaveral Air Force Station, Florida, and Vandenberg Air Force Base, California.