Many new products will be debuting at the upcoming Satellite 2017, and Geosync Microwave's engineering team will be presenting their newest RF SATCOM products at Booth 2423 that include: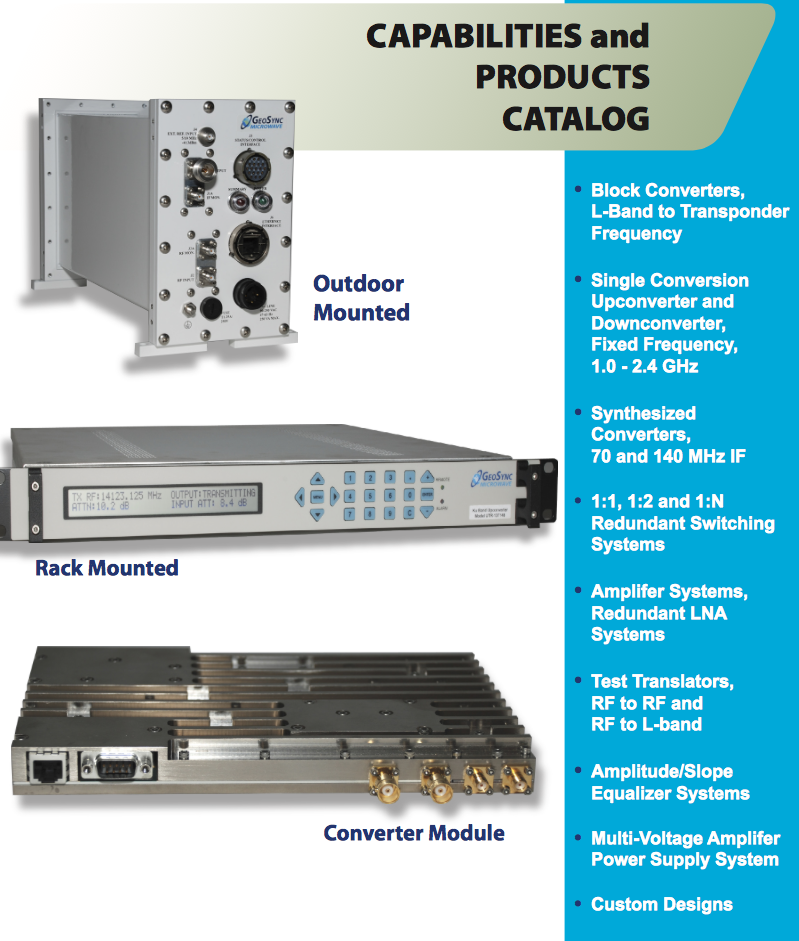 • Multi-band Ku and Ka-Band Block Up
and Downconverters
Geosync upconverters provide a single wideband RF output with two independent L-band IF inputs. The downconverters provide a single wideband RF input with two or three independent L-band IF outputs. The converters are enclosed in a small-size weather resistant enclosure for antenna mounting.
• Uplink Power Control Systems with Two Uplink Channels
Providing precise independent gain control for compensation of rain fade, the Model BTM-L2 adjusts an L-band IF. Model BTM-A adjusts a 70/140 MHz IF. Attenuation control of 20 dB in 0.2 dB steps is provided in either model. Control is through a 10/100BASE-T Ethernet or RS422/RS485 interface.
• 4-8 GHz Frequency Synthesizers
These synthesizers exhibit extremely low close in phase noise of ≤ -55 dBc/Hz at 1 Hz offset and an overall integrated phase noise specification of 1.1 degrees RMS over 1 Hz to 10 MHz at 8 GHz output. Custom models covering other frequency bands through Ka-band are available on request.