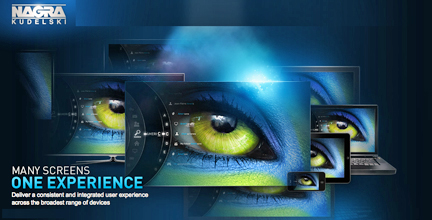 [SatNews] NAGRA, the digital TV division of the Kudelski Group (SIX:KUD.S) and Telefónica Digital, the global business division of Telefónica S.A (NYSE: TEF), have launched next generation TV services powered by NAGRA's latest middleware solution, OpenTV 5.
OpenTV 5 will enable Telefónica to deliver hybrid and over-the-top services through a unified user experience to Telefónica's Latin American customers in Argentina, Brazil, Chile, Colombia, Peru and Venezuela.
OpenTV 5 will be deployed by Telefónica across satellite, cable, terrestrial and pure over-the-top networks supporting a range of broadcast, on-demand and interactive services. As NAGRA's most advanced and most open middleware solution, OpenTV 5 provides operators like Telefónica with the building blocks to deploy feature-rich Pay-TV services, applications and user experiences. It can scale from low-cost "zapper" boxes to advanced PVRs and gateways, supporting any network type (cable, satellite, IPTV, terrestrial) including hybrid networks.
The solution will be demonstrated at NAGRA booth located in the Venetian Suites Toscana 3601-03 at the CES Show in Las Vegas from January 7-10, 2014.
More information at the NAGRA Group infosite: http://www.nagra.com/cms/