[SatNews] I have one fork and one spoon. Usually I can only find one or the other.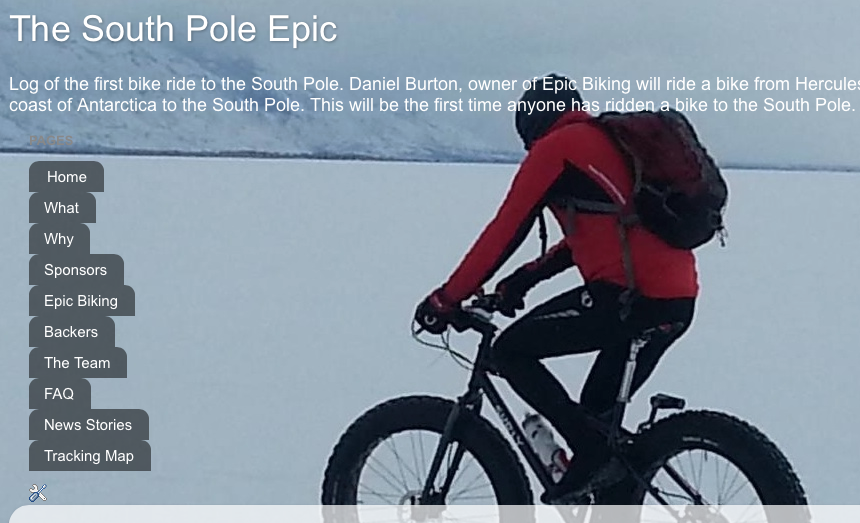 Daniel Burton, owner of Epic Biking has ridden a bike from Hercules Inlet on the coast of Antarctica to the South Pole. This will be the first time anyone has ridden a bike to the South Pole. His posts from Antarctica are sent using an Iridium phone and RedPort Optimizer from the SatPhoneStore.
Daniel Burtons' expedition to the South Pole is almost complete. He will officially be the first person to ride his bicycle from the Hercules Inlet in Antarctica to the South Pole, that's over 700 miles!
Friend us on Facebook to follow his amazing journey which he has documented with the help of the rugged Iridium 9575 Extreme and Redport Optimizer provided by the SatPhoneStore.com.
Way to go Daniel! We are cheering you on all along the way and are proud to be your sponsor!
As Daniel says... "GO OUT AND BE ACTIVE!"
January 16 — The Final Degree! South 89 degrees 09.687 West 082 degrees 49.224 14.6 nautical miles Elevation 9,036 ft
Nine degrees, nine minutes down, 51 minutes to go.
The heavy clouds, low visibility, light snow fall and soft snow conditions continue. Tomorrow's weather forecast is for more of the same. I just have to face the fact that this is probably what I will get the rest of the way.
I have started shouting out the remaining miles as I finish each mile. I don't know why, but it makes me feel good.
Thanks for following me as I bike to the South Pole. Remember to get out and be active!
Thursday January 9, 2014
January 9 — I Bike Alone
South 87 degrees 53.000 West 82 degrees 01.111 12 nautical miles 8,318 ft
Sorry for the low mileage today. My old man eyes just don't do well with the low light conditions like today. One of the songs on my iPod says, "My shadow's the only one that walks beside me." Well, I must stink so badly that not even my shadow would bike with me today.
Today was actually the easiest day I've had so far, at least aerobically. But it was a difficult day because of the lighting. The first ten miles were pretty much flat and the sleds seemed to just glide along. Then there was a short downhill. I hit some of the highest speeds that I have gone the whole time, but I couldn't see where I was going. It was like biking downhill with a white sheet of paper in front of my eyes.
I have one fork and one spoon. Usually I can only find one or the other. The last few days it has been the fork. Today I found my spoon so I figured I wouldn't be able to find my fork, but I found it, too!
Remember to go out and be active!
Daniel worked as a computer programmer for WordPerfect and Novell for 23 years. In 2007 he decided to give up his career as a programmer and dedicate his life to helping people live a healthy, active lifestyle. In 2008 he opened a bike store, Epic Biking, so that he could share his joy of riding a bike.
Six-time finisher of LoToJa. At 206 miles, LoToJa is the longest one-day USAC sanctioned bicycle race in the country. In 2011 Daniel received the LOTOJA 1000 Award
Two-time finisher of the Brian Head Epic 100 mountain bike race. At 100 miles, over 12,000 feet of climbing and maximum elevation of over 11,500 feet. The Brian Head Epic 100 was one of America's toughest mountain bike races.

Completed many multi day trips including: Trans Wyoming/Utah, White Rim in Canyonlands, and Kokopelli trail in Colorado and Utah.
Born in Oregon, lived in Oregon, Alaska, Pennsylvania, Ohio, West Virginia, and Utah. Daniel grew up hiking in Utah's High Uintas. He is adventurous, and has a never give up attitude.