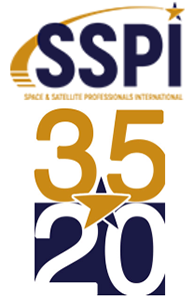 The Space & Satellite Professionals International (SSPI) has announced the first annual "20 Under 35" list of outstanding young professionals under the age of 35 — the announcement was made at SSPI's Future Leaders Dinner at Satellite Innovation 2018 in Mountain View, California.

SSPI's annual list of "20 Under 35" features 20 employees and entrepreneurs to keep your eye on in coming years. They were selected from nominations submitted by the membership and evaluated by the same panel of judges who name winners of the Promise Awards. They represent, quite simply, the best of us in the years ahead.
"The young executives on our 20 Under 35 list work for both established leaders and daring innovators in the industry," said SSPI Executive Director Robert Bell. "They come from many different nations and different disciplines. What they have in common is a track record of achievement that is remarkable for people in the first decade of their careers, and a commitment to excellence second to none."
The 20 Under 35 of 2018 are:
Jillian Gorsuch, Additive Manufacturing Technology Manager, SSL (2018 Promise Award Recipient)
Theodore McDonald, Raptor Test, SpaceX (2018 Promise Award Recipient)
Mike Safyan, VP, Launch, Planet (2018 Promise Award Recipient)
Ali Akhtar, Head of Commercial Satellite Services, Supernet
Raoul le Boucher d'Herouville, Lead Manager, Industrialization & Production, OneWeb Satellites
Zack Downey, Data Scientist, Ursa Space Systems
Joanna Estrada Schutz, Corporate Culture and Customer Experience Senior Manager, Elara Comunicaciones
Phil Hahn, Engineer, Blue Origin
Arlen Kam, Flight Dynamics Mission Analyst, OneWeb
Jeff Kendall, Manager, Space Power and Control Electronics, SSL
Jess Koloini, F-16 Program Manager, Middle East & North Africa, Lockheed Martin
Valvanera Moreno, Spacecraft Program Manager, SES
Marvin Salas Véjar, Infrastructure Manager, Elara Comunicaciones
Peter Schimitsch, Manager, Systems Engineering, Globecomm
Emily Schubert, Payload Systems Engineer, The Boeing Company
JP Sheehan, Senior Mission Systems Engineer, OneWeb
Cate van Oppen, Manager, Strategic Partnerships, Kymeta
Krystal Wilson, Director of Space Applications Programs, Secure World Foundation
Lindsay Wolff, Project Manager and Systems Engineer, GEOshare (subsidiary of Lockheed Martin)
Adam Yozwiak, Manager, Space Subsystems Engineering, OneWeb
Full profiles of the 20 Under 35 can be found on SSPI's infosite — SSPI's 20 Under 35 program is sponsored by Boeing.