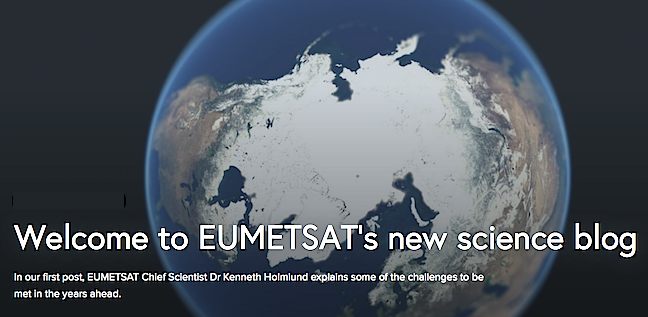 In the years ahead there are several challenges that will be keeping the Earth observation world busy, this according to EUMETSAT's Chief Scientist, Dr. Ken Holmlund. Improved monitoring of the Arctic, better monitoring of carbon emissions and responding to society's need for accurate and timely predictions of severe weather events.
The amount of data available for users is increasing significantly, for example, through the coming on-stream of data from the EUMETSAT-operated Sentinel-3A satellite, which is part of the EU's Copernicus Earth observation environmental program. EUMETSAT processes and disseminates the marine data from Sentinel-3, along with data from the joint US-European Jason-3 ocean-monitoring satellite, also under the Copernicus program. EUMETSAT currently operates and disseminates data from a fleet of geostationary and low Earth orbiting satellites but it has been recognized that gaps exist in their effectiveness in monitoring polar regions.
Focusing first on weather forecasting, it is clear that the safety, security and well-being of people, businesses and economies—particularly sectors such as transport, energy, fisheries and agriculture—depend on accurate information about the weather and climate.
"Society demands we provide better forecasts to provide a better understanding of what is coming up and also to be able to do this further in advance, so that society is better able to prepare," Holmlund said. "One of the big challenges in relation to weather forecasting is that we are now talking about complete environmental monitoring—numerical weather prediction coupling atmosphere with oceans and land."
"What's important is to see how we, as a satellite organization, can contribute by providing the right data at the right time in the right format."
Holmlund says there remains huge potential for more satellite data to be used and EUMETSAT is working with users to identify and meet their requirements.
The organization's mandatory programs, the Meteosat geostationary fleet and the EUMETSAT Polar System (EPS) low Earth orbit Metop satellites, provide a stable backbone for global meteorological observations.
This has been assured for the next 20 to 30 years, with the approval of their next generations—Meteosat Third Generation and EPS-Second Generation.
The use and impact of satellite data in numerical weather prediction models has increased dramatically over the past 40 years. In the 1970s, the models comprised about 40 percent satellite data, now the proportion is about 90 percent. However, anchoring and intercalibrating the data with observations from moored buoys and radiosonde data, for example, remains important.
"No one system can actually deliver everything, it has to be an integrated system," Holmlund said. "We need to see how we can make it the most efficient overall observing system involving satellites and in-situ observations, to see what is the most cost efficient system to meet the needs of users."
As climate change impacts the Arctic and its inhabitants, and opens previously impassable marine transport routes – the need is growing for improved meteorological and environmental data.
"We are looking at how we can improve predictions and the usefulness of the data we have now and we have started to explore what additional observations are needed," Holmlund said.
The need for improved imaging capabilities over the Arctic was identified in recent workshops organised by the European Commission and ESA.In response, EUMETSAT organized a workshop to discuss the potential for a highly elliptical orbit (HEO) satellite mission, which would provide better Arctic coverage with similar capabilities to the geostationary imaging satellites.
The workshop was attended by representatives of the organization's Nordic Member States, European global Numerical Weather Prediction (NWP) centers, the European Space Agency (ESA) and Environment Canada.
"An HEO mission is a quasi-geostationary mission over the poles, flying an elliptical orbit with an apogee—the point where it is furthest from the Earth—a few thousand kilometers higher than the altitude of geostationary satellites," he said.
"These HEO orbits enable a satellite to monitor the Arctic region for about two-thirds of the orbit so, in order to have continuous coverage, two satellites would be required. To monitor Antarctica, a second constellation of satellites would be required. The workshop participants supported an HEO-like mission but agreed that further investigations are needed to establish the true benefits of such a mission."
Another global challenge EUMETSAT is discussing with international partners, and the EC and ESA, is how to improve monitoring of carbon emissions.
The MTG and EPS-SG satellites will have a role to play, with their Infrared Sounder (IRS) and Infrared Atmospheric Sounding Interferometer (IASI-NG) missions respectively, along with other missions, such as NOAA's Geostationary Operational Environmental Satellite (GOES) and EUMETSAT's current EPS satellites.
EUMETSAT's Director-General Alain Ratier told the Sky and Space Intergroup of the European Parliament last year that monitoring anthropogenic carbon dioxide emissions is a scientific challenge that can only be met by a complex information system, of which space is only one component, along with in-situobservations and modeling, and that Europe could become the reference worldwide if it embarks now on the demonstration of such a system.