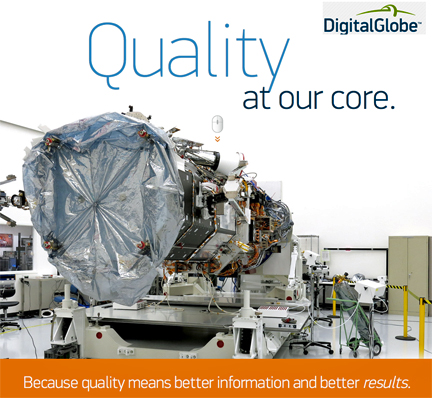 [SatNews] DigitalGlobe pioneered the commercial remote sensing industry with the launch of Ikonos in 1999, the first sub-meter resolution commercial imaging satellite.
Over the past 15 years, DigitalGlobe has set and evolved the industry standard for image quality, and today we introduce the A3C Quality Framework to help customers and end users select the right imagery for their needs.
Today, users are faced with a myriad of imagery options from different providers, each of whom offer different views of the earth with various levels of resolution, processing, and spectral content, making it difficult to select the right imagery for the customer need. DigitalGlobe is committed to enhancing our customers' experience and success by ensuring that quality is at the core of the products and services the company delivers.
A3C stands for Accuracy, Currency, Completeness, and Consistency, which are the four pillars of image quality that have the greatest impact on performance for most applications. The A3C Quality Framework will allow customers and the industry to have definitive metrics to compare and discuss the quality of imagery from diverse sources to select the product for the job.
The A3C Quality Framework for imagery selection is defined as:
Accuracy – Locational accuracy of imagery, information, and insight anchored to the surface of the earth
Currency –Temporally relevant content to match customer requirements for timeliness and persistence
Completeness – Imagery and information with required resolution, global coverage, and spatial richness
Consistency – Content that is uniform through time, location and appearance.
A3C Quality is the foundation for producing the data, information, and insight that DigitalGlobe provides to customers every day, and it is created through a series of four transformation steps.

Sourcing is the point of origin in the creation of critical information and relevant insight. It is the foundation for all subsequent transformations. If sourcing is not of the highest quality, it is not possible to correct for it later. DigitalGlobe, with its constellation of agile and sophisticated imaging satellites, provides the best source for global high resolution commercial imagery.
Capture is the process of recording data in a lasting and consistent form. Not only does DigitalGlobe capture imagery with state-of-the-art sensors, with industry leading multi-spectral and super-spectral imagery, the company also created the industry standard for transforming satellite image coordinates to Earth surface coordinates (Satellite RPC's).
Enrichment is the process of creating decision-ready information. DigitalGlobe brings years of experience to enriching image quality through orthorectification and orthomosaicking, creating Detailed Elevation Models (DEMs), correcting for atmospheric conditions, and adding human geography and other information layers.
Analysis is the process of creating activity-based intelligence and predictive insights. DigitalGlobe's analysts bring decades of experience and a unique toolset to creating customer solutions.
Visit DigitalGlobe's A3C Quality Framework page to learn more.
This story is courtesy of DigitalGlobe's "Seeing A Better World™" blog and was authored by Eric Callmann, Senior Director of Quality.