[SatNews] Everything is progressing toward NASA's MMS launch. The mission is set to liftoff on a ULA Atlas V rocket on Thursday, March 12 from Space Launch Complex 41 at Cape Canaveral Air Force Station in Florida. The 30-minute launch window opens at 10:44 - 11:14 p.m. EDT. The web cast is available at http://www.ulalaunch.com
Wednesday's update re: weather conditions:
Overall probability of violating weather constraints: 30 percent
​Primary concern(s): Cumulus Clouds, Thick CloudsOverall probability of violating weather constraints for a 24-hour delay: 40 percent
Primary concern(s): Cumulus Clouds, Thick Clouds, Ground Winds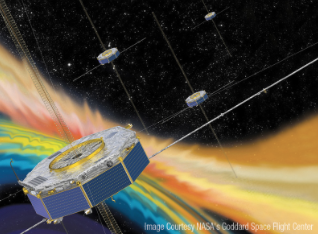 The Magnetospheric Multiscale, or MMS, mission studies the mystery of how magnetic fields around Earth connect and disconnect, explosively releasing energy via a process known a magnetic reconnection. MMS consists of four identical spacecraft that work together to provide the first three-dimensional view of this fundamental process, which occurs throughout the universe.
The mission observes reconnection directly in Earth's protective magnetic space environment, the magnetosphere. By studying reconnection in this local, natural laboratory, MMS helps us understand reconnection elsewhere as well, such as in the atmosphere of the sun and other stars, in the vicinity of black holes and neutron stars, and at the boundary between our solar system's heliosphere and interstellar space.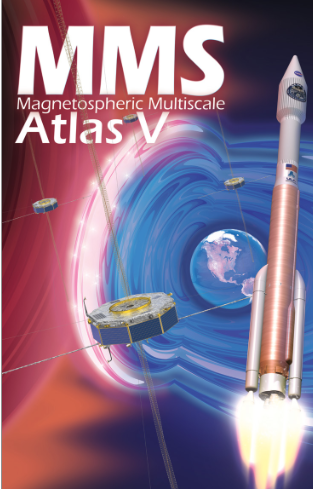 The Magnetospheric Multiscale mission, or MMS, is a NASA Solar Terrestrial Probes mission consisting of four identical science observa- tories whose objective is to understand the microphysics of magnetic reconnection. The four MMS observatories are designed, built, and operated by NASA's Goddard Space Flight Center (GSFC) in Greenbelt, MD and a science and instrument team led by Southwest Research Institute (SwRI) in San Antonio, Texas.
Magnetic reconnection is a universal process that happens when magnetic fields in two adjacent regions of space interconnect across their boundary converting magnetic energy into heat and high energy charged particles. This process lies at the heart of giant explosions on the sun, such as solar flares and coronal mass ejections, which can fling radiation and particles across the solar system. Because it's so difficult to see this process on the sun, and it's also a difficult process to re-create and study in the lab, researchers plan to take a closer look at magnetic reconnection in space.
The four identically instrumented MMS observatories will fly in an adjustable pyramid-like tetrahedron formation. By observing magnetic reconnection in nature, MMS provides access to predictive knowledge of a universal process that is the final governor of space weather, affecting modern technological systems such as communications networks, GPS navigation, and electrical power grids. Magnetic reconnection also limits the performance of fusion reactors on Earth. Solving magnetic reconnection