The first three nanosatellites owned and to be operated by Sky and Space Global have been designated as "Ready for Launch" by construction partner GomSpace.
Called the "3 Diamonds," the company just released a time-lapse video of the assembly of the Blue Diamond nanosatellite at the Aalborg, Denmark, manufacturing facility (youtube.com/watch?v=b6ixeywqO7E). Sky & Space Global plans to launch 200 nanosatellites to provide affordable mobile coverage to the 4 billion people on Earth without SATCOM connectivity.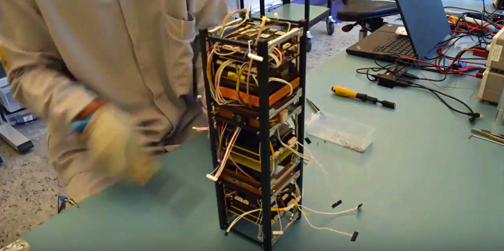 The "Ready for Launch" designation follows the completion of the Integration and Verification testing phase at GomSpace. The testing process of the 3 Diamonds—Red, Green and Blu—included the full functional tests of all subsystems to ensure the systems were functioning as required. The first three nano-satellites will form a pilot constellation and initial communications network that will provide a significantly cheaper platform for voice, data and instant messaging services.
With the testing process completed, the 3 Diamonds are now ready to be transported to the Innovative Space Logistics B.V. (ISL) launch integrator facilities in Delft, the Netherlands, to be integrated into the "Quadpack" launch pod. This will be done according to the final launch date and ISL integration schedule requirement. ISL is a leader for smallsat launch integrations and has been in charge of 12 successful previous missions, including the mission involving 101 satellites on the recent Polar Satellite Launch Vehicle (PSLV) launch. After integration into the Quadpack, the 3 Diamonds will be shipped to the Indian Space Research Organisation's (ISRO) launch site at the Satish Dhawan Space Centre in Sriharikota, India, where they are currently scheduled for launch in early Q2 2017 (final date to be confirmed by ISRO) aboard the ISRO's PSLV, with the exact launch date to be announced.
Sky & Space Global plans to launch as many as 200 more nanosatellites from mid-2018 using the LauncherOne orbital launch vehicle with Richard Branson's Virgin Galactic following the 3 Diamonds pilot. Sky and Space Global's chief executive officer Meir Moalem commented that achieving Ready for Launch designation for these nanosatellites is a substantial milestone for Sky and Space Global—every milestone has been met, which is the result of the ongoing effort and hard work by the company's team.