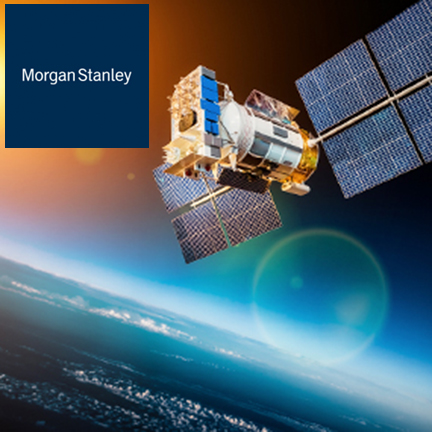 Morgan Stanley expects the FCC to issue a Final Report and Order in November on repurposing a portion of the C-Band spectrum (3.7-4.2 GHz) for wireless use.
The
FCC
's Final Report and Order should address if — and how (private auction, etc.) — the C-Band, currently used by satellite providers can be reallocated to wireless carriers. Morgan Stanley estimates this spectrum is worth between $10-30 billion in gross proceeds, payable to the satellite providers if going through a private auction route, to compensate for the economic costs of moving satellite services away from a portion of the band. There may also be a voluntary windfall tax on these gross proceeds.
FCC Chairman Ajit Pai recently noted, "I'm optimistic that later this fall we will vote on in order to make a significant amount of spectrum available in the C-Band for 5G."
Morgan Stanley expects this matter to be voted on at the November 19 (or possibly December 12) FCC Commission meeting. The agenda items for this meeting should be posted approximately three weeks ahead of time —October 29 (or November 21).
Intelsat should report 3Q19 earnings in late October or early November.
Scenario 1
FCC adopts CBA proposal with windfall tax of 15 percent or lower
Scenario 2
FCC adopts CBA proposal with 21 percent + windfall tax
Scenario 3
FCC delays action on C-Band/Proposes FCC led auction.
Since the FCC Notice of Proposed Rulemaking was issued in June of 2018, the market has been anxiously awaiting a final Report and Order. The FCC appears ready to permit the C-Band Alliance to run an auction for 180/280 MHz of spectrum under their supervision. While the C-Band Alliance has offered to make "a significant voluntary contribution to the U.S. Treasury", the size of that contribution remains unclear.
Scenario 1
Share price $28/+23 percent, At $20B in gross proceeds, a 15 percent Windfall Tax (versus 21 percent) would represent about an incremental ~$510 million in proceeds to Intelsat, or ~$3.6 per share.
Scenario 2
Share price $24/+ percent. A 21 percent rate equates to the Federal Corporate Tax rate, which could be an anchor point. The stock should benefit from added certainty on the outcome, particularly if there is more clarity on reclaiming 280 MHz of spectrum versus 180 MHz.
Scenario 3
Share price $19/-17 percent. A delay into 2020, or a decision to choose an FCC led auction, would likely pressure the stock after recent appreciation. Morgan Stanley's base case is most similar to Scenario 2, using a 30 percent discount in the company's valuation to account for voluntary contributions, other taxes and expenses. For gross proceeds, Morgan Stanly is assuming a $0.375/MHzPOP on 180 MHz of C-Band spectrum. Furthermore, the company assumes $2 billion of clearing costs for the initial 180MHz band, with 45 percent of the net proceeds going to Intelsat.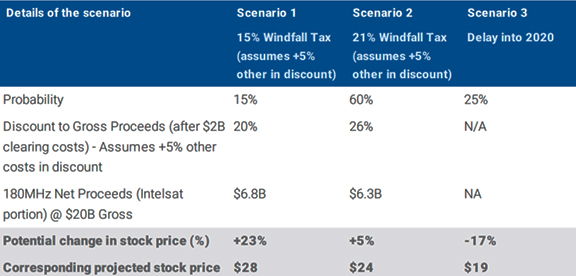 For Scenario 1 and 2, Morgan Stanley assumes a 5 percent incremental cost on top of the windfall tax to account for other items. I.N
Valuation
Morgan Stanley's price target valuation is based off a 7.0x satellite EV/EBITDA (satellite peer average prior to C-Band interest) + 37.5c/MHzPOP C-band value (initial 180MHz) +25c/MHzPOP (incremental 100MHz)
Key Risk
Increased competition — Bidding wars over satellite service prices as supply grows. Several competitors also have high throughput satellites (HTS) coming online. These HTS could lower pricing across the existing fleets.
Satellite anomalies — Intelsat's revenue growth is highly dependent on additional capacity from upcoming satellite launches
Weak credit markets — Refinancing debt at attractive rates may be dependent on market conditions
FCC decision on C-band – An FCC decision on how to repurpose the C-band for mobile use may vary from Intelsat's preferred outcome.