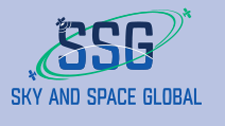 Nanosatellite telecommunications provider
Sky and Space Global
(ASX: SAS) has successfully integrated their 'Three Diamonds' smallsats into the launch pod of Innovative Space Logistics BV in the Netherlands.
Sky & Space Global's smallsats are set to disrupt the telco space by enabling the provision of less expensive voice, data and instant messaging services to areas in South and Central America, and Africa and Asia. Airliners and shipping companies in the coverage area will also be serviced.
The Three Diamonds will now be transported from the premises of Innovative Space Logistics BV in the Netherlands to India ahead of the upcoming launch, which is scheduled for late May. These nanosatellites will be launched from the Polar Satellite Launch Vehicle (PSLV) of the Indian Space Research Organisation (ISRO). The PSLV launch system has had 37 successful launches so far and its most recent PSLV–C37 was marked by the successful deployment of a record 104 satellites in sun-synchronous orbit.
The integration of the nanosatellites follows the successful completion of the testing of SAS's Ground and Space Communication systems and software in early April and represents another major milestone in the journey to the commercial launch in May. This news follows the company announcement on April 6 that their Three Diamonds nanosatellites launch window has been confirmed for late May of this year.