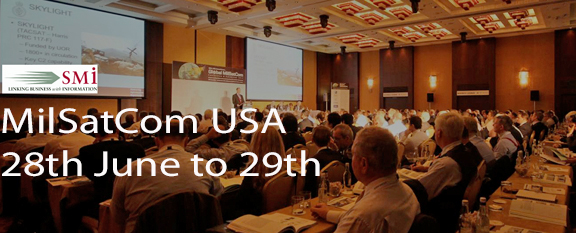 In Arlington at the Sheraton Pentagon City Hotel, from June 28 to 29, MilSatCom USA 2016 will be conducted.
Offered at this event will be the opportunity to meet key government and military personnel, and the industry leaders, from across the U.S. Armed Forces as well as the UK, Canada, Spain, France and NATO.
GOLD SPONSORS
Airbus Defence and Space
Hughes Network Systems,
Intelsat General
O3b Networks

EXHIBITOR
Sky Perfect JSAT Corporation
PROGRAM UPDATE
Colonel Neil Khatod, Deputy Division Chief for Operations, U.S. Central Command, has joined the Day One Panel Discussion on "Overcoming The Challenges To Ensure Full Integration Of ComSatCom Into MilSatCom Systems." Click here for more information.
The event agenda for 2016 includes 18+ unique presentations delivered by leading experts in the field addressing key aspects of protected SATCOM, such as the protected tactical waveform, jam resistance, low probability of intercept and the integration of ComSatCom for military communications.
The expert speaker lineup includes...
Congressman Jim Bridenstine, Rep Oklahoma
Brigadier General Nina Armagno (Selected for Promotion to Major General), Director of Strategic Plans, Programs, Requirements and Analysis, Headquarters Air Force Space Command
Winston Beauchamp, Deputy Under Secretary of the Air Force for Space, and the Director, Principal DoD Space Advisor Staff, Department of Defense
Jessie Showers, Infrastructure Executive, DISA
Deanna Ryals, Chief of International MilSatCom, U.S. Air Force
Colonel Michael Moyles, Chief, IT and Mission Services Division, J6, NorthCom
Colonel Jonathon Moelter, Director of J6, U.S. SouthCom
Colonel John McLaughlin, Director of J6 Directorate, US Special Operations Command
Colonel Jeff Dooling, Director of Space Requirements for Director-General Space, Canadian Armed Forces
Commander Jean-Philippe Vautier, SatCom Program Officer, French Joint Space Command
Commander David Moody, JFC-Cap C4ISR, UK MoD
Dr. Gregory Edwards, Head of Infrastructure Services, NATO NCIA
and many more
Click here to see the full speaker line up or download the event agenda including all speakers and their topics.
There's also an exclusive, pre-conference workshop on June 27, from 12:30 to 4:30 p.m. entitled "Small Satellite Enablers for MilSatCom," led by Aerospace Corporation. Seats are strictly limited to ensure an interactive dialogue and optimal learning outcome. For more information, please go to the event website .