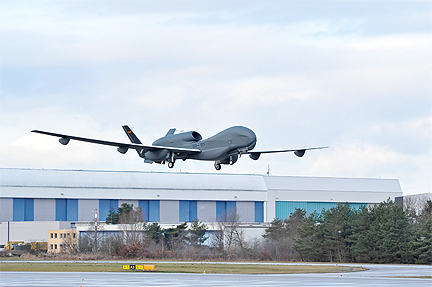 [SatNews] Northrop Grumman Corporation (NYSE: NOC) and EADS Deutschland GmbH, operating through Cassidian, together achieved a major milestone...
...with the first full system test flight of the EURO HAWK® unmanned aircraft system (UAS) equipped with the signals intelligence (SIGINT) advanced sensors for detection of radar and communication emitters. Cassidian is the defence and security division of EADS (EDF, EPA, MSX: EAD). The EURO HAWK® took off at 10:36 a.m. Central European time from Manching Air Base and climbed to a ceiling of 54,000 feet within military controlled airspace, far above and at a safe distance from civilian air traffic. After more than eight hours aloft, the aircraft landed safely back at Manching Air Base at 4:38 p.m. Central European time.
"This successful flight demonstrates the EURO HAWK® program's systems integration capabilities and cutting-edge technologies. The Cassidian-developed SIGINT sensor suite, conforming to the German Bundeswehr's requirements, showed excellent performance within the perfect interplay of the overall system," said Bernhard Gerwert, chief executive officer of Cassidian. "We therefore are proud to prove with these test flights the new EURO HAWK's mission capability of strategic SIGINT intelligence for the protection and security of the German armed forces."
The EURO HAWK® system previously completed extensive ground testing at Manching Air Base, receiving final approval from the German Airworthiness Authority to flight test the functionalities of the integrated SIGINT payload. Based on the RQ-4B Global Hawk HALE UAS, the EURO HAWK® system includes a ground station consisting of a mission control and launch and recovery elements provided by Northrop Grumman. It is equipped with a new SIGINT mission system developed by Cassidian, providing standoff capability to detect electronic and communications emitters. The SIGINT ground station, which receives and analyzes the data from EURO HAWK® as part of an integrated system solution, is also supplied by Cassidian. With a wingspan larger than most commercial airliners, endurance of more than 30 hours and a maximum altitude of approximately 60,000 feet, EURO HAWK® is an interoperable, modular and cost-effective replacement for the fleet of manned Breguet Atlantic aircraft, which was in service since 1972 and retired in 2010.