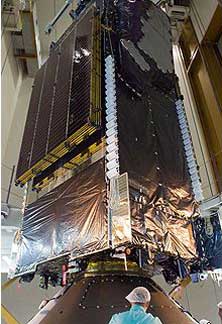 The TerreStar-1 telecommunications satellite was mated to its Ariane 5 launcher today, taking Arianespace's upcoming heavy-lift mission one major step closer to the July 1 liftoff.
TerreStar-1 will be the world's largest civilian telecommunications satellite ever launched,
and it is riding as a solo payload on a dedicated Ariane 5 ECA.
(The photo at right shows TerreStar-1 being positioned on Ariane 5's core stage during the integration process, which occurred in the upper level of the Spaceport's Final Assembly Building).
Based on
Space Systems/Loral's 1300 platform, TerreStar-1 is to provide coverage over the U.S. and Canada – offering voice, data and video communications to satellite/terrestrial mobile devices the size of a typical smart phone
.  The spacecraft will be operated by TerreStar Networks, Inc. and can generate
over five hundred spot beams covering the Continental U.S., Canada, Alaska, Hawaii, Puerto Rico and the U.S. Virgin Islands.
TerreStar-1's launch will be the
third of seven missions planned by Arianespace in 2009
with the workhorse Ariane 5 launch vehicle.