The World Teleport Association (WTA) is preparing a one hour live webinar—Building the Teleport of Tomorrow:
Executive Insights into Succeeding in a Dynamic Market—for Thursday, July 21, 2016, at 11:00 a.m., ET, 8:00 p.m., PT.
HTS, exploding demands for mobility and transforming markets, will bring drastic change to the satellite business. In this new environment, what will the successful teleport operating company of 2020 look like? Accelerating trends suggest that "business as usual" will not be a recipe for success.
Find out what the leading satellite, teleport and technology executives believe will be the keys to succeeding in this dynamic environment. Join the World Teleport Association (WTA) for a webinar, sponsored by Kratos, as they discuss the findings from their recent report "The Teleport of Tomorrow" with today's thought leaders in the satellite industry.
The speakers include...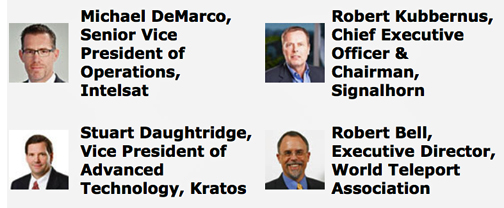 The key discussion topics include...
What will be the effect of HTS on new and future business models and strategies?
Will technology footprints decrease with the use of third parties or grow with exploding capacity?
How will new technologies such as big data analytics, cloud and virtualization bring competitive advantage?
What types of partnerships will help companies scale and deliver more value to customers?
How will companies bridge the RF and IP knowledge gap to staff effectively?
Even if you may not be available to attend the webinar on that date, sign-up and WTA will send you a link to the recording post-event.
Register to attend this information packed event at this direct link...