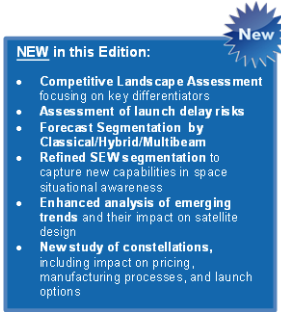 [SatNews] NSR's Satellite Manufacturing and Launch Services, 5th Edition (SMLS5) provides an up-to-date assessment of activity in global manufacturing and launch markets. Extending from 2014 market performance to expectations for the next ten years, SMLS5 addresses how emerging trends will impact satellite design and procurement and what this means for the main players. Applying extensive proprietary data and leveraging NSR's thorough analysis of drivers in all major satellite service markets, SMLS5 offers a clear view into region and application specific demand for satellites over the coming decade.
In a constantly evolving sector that in 2014 experienced the introduction of new launch vehicles, vast satellite architectures, and a growing need for flexibility and broad capabilities, actionable market intelligence is a critical resource for established and emerging players alike. SMLS5 examines these developing circumstances alongside specific market demand to identify and evaluate opportunities within the industry, resulting in a bottom-up analysis that supports each step of the value chain.
This report answers key questions concerning the satellite manufacturing and launch services markets:
Will electric propulsion become a standard tool or a passing trend?
How will recently proposed communications and Earth Observation constellationsimpact the manufacturing and launch dynamics? Can supply match demand?
How will GEO and non-GEO launch rates evolve?
What trends in satellite size and payload power will dominate the next decade?
Will new launch vehicles and advanced technologies have a strong impact on procurement practices and market structure?
In a time of restrained government spending yet geopolitical instability, how will government and military satellite programs fare?
Is the competitive environment at a turning point?
The report includes:
2014 Manufacturer and Launch Service Provider market share
Satellite procurement trends and ten-year forecasts by application, region, and mass
Pricing trends for each manufacturing vertical
GEO and non-GEO launch and market size forecasts for both open and captive markets
Assessment of 2014 satellite orders and emerging trends
Analysis of constellation proposals and implications
Competitive intensity assessment of GEO and non-GEO manufacturing and launch industries