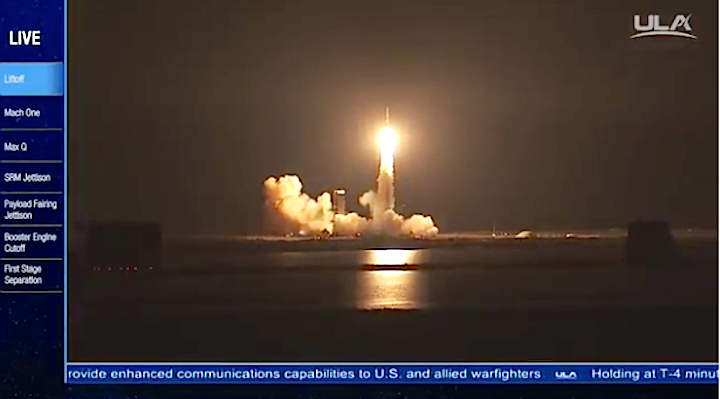 Countdown and it's a go with a double celebration. Today's Delta IV launch of the USAF's WGS-9 satellite also coincided with the Air Force's 70 anniversary.
Statement from United Launch Alliance
Cape Canaveral Air Force Station, Florida, (March 18, 2017) – A United Launch Alliance (ULA) Delta IV rocket carrying the ninth Wideband Global SATCOM (WGS-9) satellite for the United States Air Force lifted off from Space Launch Complex-37 on March 18 at 8:18 p.m. EST.
"This launch commemorates the 70th anniversary of the USAF." said Laura Maginnis, ULA vice president of Government Satellite Launch. "We are absolutely honored to play a role in this important milestone, while safely delivering WGS-9 to orbit."
This mission was launched aboard a Delta IV Medium+ (5, 4) configuration Evolved Expendable Launch Vehicle (EELV) powered by one common booster core and four solid rocket motors built by Orbital ATK. The common booster core was powered by an RS-68A liquid hydrogen/liquid oxygen engine producing 705,250 pounds of thrust at sea level. A single RL10B-2 liquid hydrogen/liquid oxygen engine powered the second stage. The booster and upper stage engines are both built by Aerojet Rocketdyne. ULA constructed the Delta IV Medium+ (5,4) launch vehicle in Decatur, Alabama.
This is ULA's third launch in 2017 and the 118th successful launch since the company was formed in December 2006.
"Thank you to the women and men of United Launch Alliance and all of our teammates who have worked tirelessly together to ensure today's mission success," said Maginnis. "The team's number one priority was safely and reliably delivering one of our nation's most critical satellites."
WGS-9, the third Block II Follow-on satellite, supports communications links in the X-band and Ka-band spectra. The WGS-9 satellite will be able filter and downlink up to 8.088 GHz of bandwidth. WGS satellites are an important element of a new high-capacity satellite communications system providing enhanced communications capability to our troops in the field.
The EELV program was established by the U.S. Air Force to provide assured access to space for Department of Defense and other government payloads. The commercially developed EELV program supports the full range of government mission requirements, while delivering on schedule and providing significant cost savings over the heritage launch systems.
With more than a century of combined heritage, United Launch Alliance is the nation's most experienced and reliable launch service provider. ULA has successfully delivered more than 115 satellites to orbit that provide critical capabilities for troops in the field, aid meteorologists in tracking severe weather, enable personal device-based GPS navigation and unlock the mysteries of our solar system.
End ULA's Statement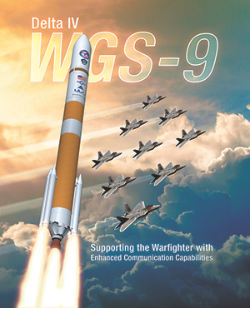 This mission involves the WGS satellite. WGS satellites are important elements of a new high-capacity satellite communications system providing enhanced communications capabilities to the troops in the field. WGS has 19 independent coverage areas, 18 of which can be positioned throughout its field-of-view. This includes eight steerable/shapeable X-band beams formed by separate transmit/receive phased arrays; 10 Ka-band beams served by independently steerable diplexed antennas; and one transmit/receive X-band Earth-coverage beam. WGS can tailor coverage areas and connect X-band and Ka-band users anywhere within its field-of-view. The X-band phased array antenna enables anti-jam functionality without sacrificing performance.
Previously, on Boeing's [NYSE: BA] eighth Wideband Global SATCOM (WGS) satellite communications bandwidth was nearly doubled compared to previous WGS satellites due to an upgraded digital payload. Using leading commercial digital circuit technology, the upgraded satellite aids in fulfilling the increasing demand for high-data rate communications of warfighters around the globe and doubled the satellite's bandwidth.
The WGS-9 satellite is funded through an international partnership between the United States and Canada, Denmark, Luxembourg, The Netherlands and New Zealand.