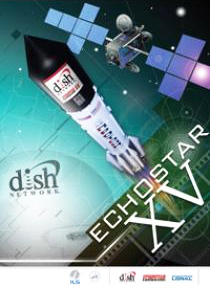 [SatNews] International Launch Services (ILS) successfully carried the EchoStar XV satellite into orbit on an ILS Proton for DISH Network L.L.C.
EchoStar Satellite Services L.L.C
., a subsidiary of
EchoStar Corporation
(Nasdaq: SATS), manages
DISH Network
's space programs and will begin in-orbit testing of the satellite later this month.
The ILS Proton launched from Pad 39 at the Cosmodrome at 00:40 local time today (10 July, 14:40 EDT; 18:40 GMT). After a 9 hour ,13 minute mission, the
Breeze M
successfully released the EchoStar XV satellite into geosynchronous transfer orbit. This is a high energy orbit that will enable the satellite to have approximately 20 years of service life. The EchoStar XV launch was the 24th successful consecutive Proton launch in 24 months, and the second ILS Proton launch of a DISH Network satellite this year.
The satellite was built by
Space Systems/Loral
(
SS/L
) on the flight-proven
1300
platform, weighing 5,521 kg at separation. EchoStar XV, located at
61.5 degrees West
, is poised to provide expanded services, including HD programming, for DISH Network's more than 14 million direct-to-home television subscribers. EchoStar XV was the 15th SS/L satellite launched on an ILS Proton. This was the 358th launch for Proton since its inaugural flight in 1965, and the 61st ILS Proton launch overall. The Proton Breeze M launch vehicle was developed and built by
Khrunichev Research and Production Space Center
of Moscow and the majority shareholder in ILS.