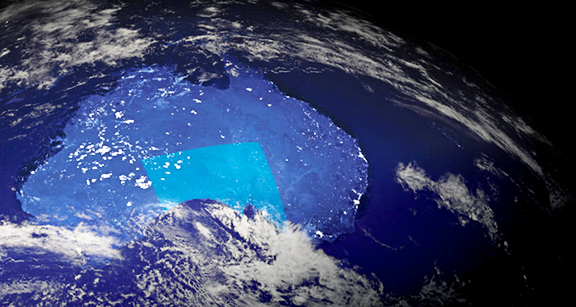 An Australian state with a rich space history is staking its claim to be home to Australia's space agency.
Media reports have surfaced that A$50 million in seed funding had been included in next week's 2018/19 Australian Federal Budget to set up a dedicated Australian space agency. Industry commentators and academics have come out in support of the decision, which will be crucial in driving growth in the industry.
University of South Australia Dean of Industry & Enterprise Professor Andy Koronios said there was a compelling case for the Space Agency to be based in South Australia and said that South Australia has a vibrant space industry ecosystem with more than 60 SA-based organizations involved in commercial space activity. A significant component of this includes new start-up companies, such as UniSA spinout company, Myriota, in which Boeing and Singtel recently invested $20 million. This innovation is underpinned by world-class R&D in facilities such as the Defence Science & Technology Group, UniSA's Institute for Telecommunications Research and the University of Adelaide.
The global space industry's focus was on the South Australian capital Adelaide last September when it hosted the International Astronautical Congress — last year's biggest space meeting. It was at the congress that the Australian Federal Government announced it would conduct a review into what a national space agency might look like. The Australian space sector currently produces annual revenues of up to 4 billion and employs between 9,500 and 11,500 people from its 0.8 per cent share of the global space economy, which was estimated to be worth US$330 billion in 2014 and, according to Bank of America Merrill Lynch, could reach $3.5 trillion within thirty years.
The Space Industry Association of Australia (SIAA) says there is an opportunity to double the size of the Australian industry within five years. South Australia's history in space dates back more than 70 years with the establishment of the Woomera Rocket Range in Outback South Australia in 1947, which is still operating today. Woomera was also the site of Australia's first satellite launch in 1967.
South Australia has been a strong advocate of a campaign to establish a national space agency and is home to many of the major defence primes, many of which are also involved in space. The state joined forces with the Australian Capital Territory last August to lobby the Federal Government for an agency in a bid to shore up its local space industry.
Last August, the State Government joined forces with the ACT to lobby the Federal Government for an agency in a bid to shore up its local space industry. The South Australian Space Industry Centre opened its doors the following month to drive space industry innovation, research and entrepreneurial development. The state is also leading a national effort to establish a Cooperative Research Centre (CRC) in smart satellite technologies which will further attract industry and government funding for next generation satellite technologies and spawn new Australian companies. Several other states are understood to also be pushing to host the national space agency.
South Australian Premier Steven Marshall last week said he believed space truly was the next frontier for the state and stated that it's very logical for South Australia to play a greater role... I'm advocating that all or part of that space agency should be coming to South Australia because we've got a history in this area, we've also got some physical assets and an industry capability, so at the very least, South Australia should become a major industry node for the national space agency.
The Federal Budget will be handed down on Tuesday, May 8.
News story by Andrew Spence,