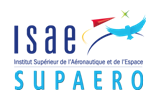 Airbus and ISAE-SUPAERO join forces to train the space experts of the future.
Airbus Defence and Space and ISAE-SUPAERO provider of aerospace engineering training, are joining forces to launch the SPACE APPLICATIONS & SERVICESSPECIALISED MASTER®, described as a new and unique course in France that aims to respond to extensive training needs among space sector professionals in order to stimulate development of new applications, fully harness the potential of space systems and increase international trade.
Further explanation continues: In today's context of digital transition, space is becoming an increasingly significant provider of data. This data is mostly used for observation, positioning, telecommunications and scientific purposes, providing e.g. weather, mapping and risk surveillance services, as well as access to TV, web and phone networks. Technological developments and rapidly changing processing capabilities will enable new applications in many sectors and by new players in the near future. There is potential for growth, as well as for value and job creation, generating significant economic impetus.
The SPACE APPLICATIONS & SERVICES (SPAPS) SPECIALISED MASTER® is open to young French and international graduate students and professionals working in space applications. It will be taught in English. At the end of the course, new graduates will have a high level of expertise and skills geared to the French and international space industry, satellite operators and contracting institutions. These professionals will be qualified for positions as aproject leader, business engineer, business development manager, consulting manager, research engineer orexpert in space applications.
Airbus Defence and Space plays an active role, supporting this innovative course and offering to complete the training provided by ISAE-SUPAERO by fostering student immersion in the industrial environment: participation of trainers from Airbus, organisation of educational projects, traineeships and site visits.
The SPAPS SPECIALISED MASTER® will welcome its first class of students in September 2017 in Toulouse and will help to reinforce the international standing of France's space industry.