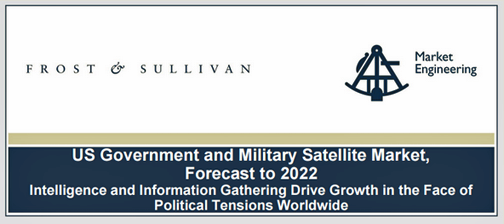 The US military's rising use of advanced weapons, such as unmanned aerial vehicles (UAVs)/drones, has given a huge boost to the market for satellite communication (SATCOM).
These aircrafts require non-traditional communication technologies such as SATCOM to fly, navigate and engage in combat in remote locations, and their relevance in modern warfare ensures a steady demand for military satellite technologies.
US Government and Military Satellite Market, Forecast to 2022, is part of Frost & Sullivan's Space & Communications Growth Partnership Subscription. The study finds that the government and military accounted for 87.2 percent of the total US spending on satellite services. SES and Intelsat have the most significant presence in the U.S. military market, accounting for combined 57.7 percent of the total market.
The US government and military are among the oldest clients of satellite services, and ongoing contracts and future prospects make them a consistent source of revenue despite the market's maturity. The competition for military contracts is fierce among high-bandwidth/global coverage service vendors in the industry; this, in turn, has made the military satellite market an important influencer of satellite upgrades, changes and increased efficiencies.
Satellite technology's higher costs of service and hardware are hardly proving deterrents to its adoption as it is the only network technology that is accessible in many field operations where terrestrial networks are unreliable. Many regions such as the Middle East, Africa and parts of Latin America, where there is US military intervention or continued surveillance, lack high-bandwidth terrestrial networks with 100 percent network up time. This has opened up business opportunities for satellite service providers that offer efficient performance, industry-leading reliability and wide coverage in remote regions to support communication capabilities for U.S. troops and allies.
"In addition to UAVs, the US is currently modernizing many aspects of its military force, including the F35 Joint Strike fighter and Zumwalt-class destroyer," said Frost & Sullivan Digital Transformation Research Analyst Peter Finalle. "These new vessels and aircraft will require more communications in locations outside of the traditional network coverage, making SATCOM the primary communications technology for many of them. Furthermore, new political changes in the US have altered political relationships in 2017. This could cause increased reliance on satellite technology in some locations and ensure that the US government and military remains the largest single client for satellite services in the world."
Other topics covered under the Space & Communications subscription include Space Communications in the IOT Age, Global Satellite Transponder Market, Global Commercial Satellite Broadband Market, U.S. Government Commercial Satellite Market, among others. All studies in the subscription present detailed market opportunities and industry trends evaluated following extensive interviews with market participants.