Geeks Without Frontiers (GEEKS) has announced that the organization's CEO, David Hartshorn, has been appointed to a working group of the Federal Communications Commission's (FCC) Broadband Deployment Advisory Committee (BDAC), which is focused on accelerating the deployment of broadband internet access — Hartshorn will be supporting the working group tasked with disaster preparedness and recovery.
GEEKS' support for the working group builds upon initiatives that are closely aligned with the FCC's priorities, particularly as they relate to bridging the digital divide. Those initiatives include the following:
Humanity Connect!: a multi-sector collaboration that draws upon coordination of the private and public sectors to enable community integration into national and international disaster-preparedness communications strategies.
DigOnce!: a global policy initiative designed to help close the digital divide by introducing a customizable legislative framework designed to increase the availability of broadband internet facilities by reducing the time, cost, and environmental impact of rolling out high-speed communications networks.
CommunityConnect!: a code of best practices for Satellite Operators, Regulators, Service Providers and Integrators, designed to help promote the more rapid and cost-effective deployment of satellite broadband to communities globally with a view to closing the digital divide and to achieving the UN Sustainable Development Goals.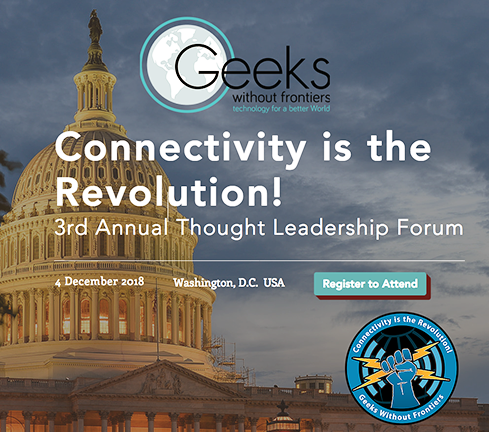 Successful strategies for implementation of sustainable connectivity will also be the focus of GEEKS' "Connectivity is the Revolution!" Thought Leadership Forum in Washington, D.C. on December 4, 2018. Government and industry officials will gather for this high-level event, designed to drive and inspire global efforts to help bridge the digital divide and bring connectivity to the estimated 3.2 billion people who do not have the benefit of internet access.
Executive Comment
Hartshorn said Geeks Without Frontiers commends FCC Chairman Pai's initiative, to prioritize the importance of disaster recovery and preparedness and we share the view that there is, today, an important opportunity to leverage technology, regulation, policy and stakeholder collaboration for impactful disaster preparedness. This is an honor to play a role in the development of mission critical broadband solutions in the U.S.

The GEEKS goal is to positively impact the lives of a billion people over the next ten years through the innovative use of technology, connectivity and sustainable social enterprise models. To get involved with the organization, visit www.geekswf.org, and to learn more about the GEEKS Thought Leadership Forum visit www.ConnectivityForum.com.